25.11.21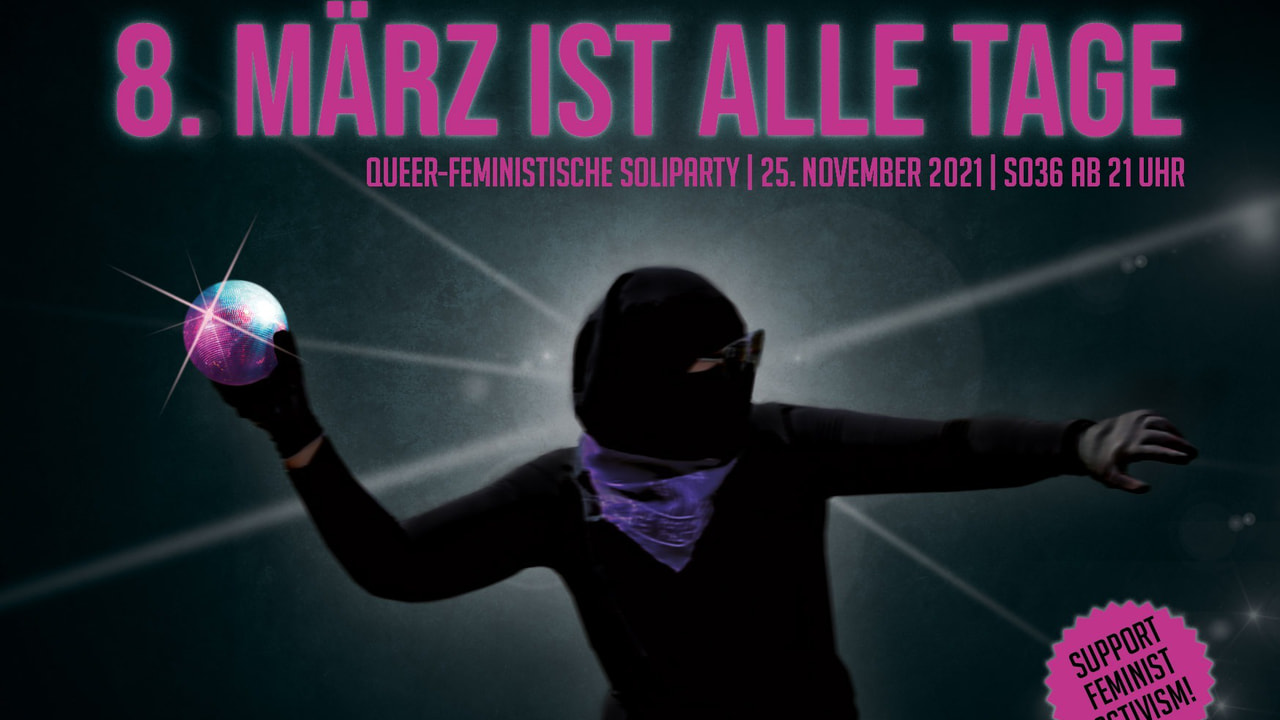 fun fun fAntifa
Tickets für
8 MÄRZ IST ALLE TAGE!

Queerfeministische Soliparty 25.11.21 in Berlin, SO36
Tickets – 8 MÄRZ IST ALLE TAGE!
Berlin
---
Informationen
🔥 8. März ist alle Tage 🔥
queerfeministische Soliparty am 25.11. im SO36 +++
Achtung: Einlass mit 2G plus Schnelltest

English below.

Wir sind lauter als das Patriarchat - und machen auch besser Party! Am internationalen Tag gegen Gewalt an FLINTAs gibt's female Hip Hop, Electro & Pop Soli-Schnapps, Kicker und fun fun fAntifa im SO36. Phänomenale DJ*s heizen uns ein.

Los geht's ab 21 Uhr - kommt pünktlich, ist ja schließlich ein Donnerstag ;-) Wir freun uns auf nen guten Abend mit euch!
Eintritt-Spendenempfehlung: 5-10€

Noch ein paar Worte zum Hygienekonzept:

Wir haben uns entschlossen auf alle Fälle 2G Plus Test zu machen - das bedeutet Einlass nur mit digital verifizierbarem Impfzertifikat oder Genesenennachweis. Zusätzlich dazu benötigt ihr einen Lichtbildausweis (Pass, Personalausweis, Führerschein, Duldung, Kv-Karte...) & einen tagesaktuellen Schnelltest. Den Test könnt ihr auch direkt neben dem SO36 machen (Oranienstraße 188), da wird es eine Teststation geben die bis 23 Uhr aufhat.

Außerdem gibt eine sehr gute maschinelle Lüftung, die für einen durchgängigen Luftaustausch sorgt und wir haben eine Menge Platz.

Wir sehen uns auf der Straße und im Club!
**********************************************************************************************
🔥 March 8th is all days 🔥
Queerfeminist Soliparty on 25.11. at SO36 +++ with 2G plus +++

We are louder than the patriarchy - and party better too! On the International Day for the Elimination of Violence against FLINTAs there's female hip hop & pop, soli-schnapps and fun fun fAntifa at SO36. Phenomenal DJs will heat us up.
It starts at 9pm - come on time, it's a Thursday after all ;-) We are looking forward to a good time with you!
Admission - recommended donation: 5-10€

A few words about the hygiene concept:
We have decided to make 2G Plus test in any case - entrance only with digitally verificable vaccination certificate or proof of recovery. You will also need an id (pass, identity id, driving license, kv card, Duldung etc. ) & a negative rapid test of the same day. You can also do the test right next to SO36, there will be a test station that will be open until 11 pm.
In addition, there is a very good mechanical ventilation, which ensures a continuous air exchange and we have a lot of space.
See you on the street and in the club!
********************************************************************************************
ACHTUNG: ES GILT 2G+ Test - EINLASS NUR MIT DIGITAL VERIFIZIERBAREM IMPFZERTIFIKAT ODER GENESENENNACHWEIS. ZUSÄTZLICH DAZU BENÖTIGT IHR EINEN LICHTBILDAUSWEIS (PASS, PERSONALAUSWEIS, FÜHRERSCHEIN, KV-KARTE) UND TAGESAKTUELLEN CORONA SCHNELLTEST

ATTENTION: 2G +test - ENTRANCE ONLY WITH DIGITALLY VERIFICABLE VACCINATION CERTIFICATE OR PROOF OF RECOVERY. YOU WILL ALSO NEED AN ID (PASS, IDENTITY ID, DRIVING LICENSE, KV CARD) + RAPID ANTIGEN TEST