04.09.22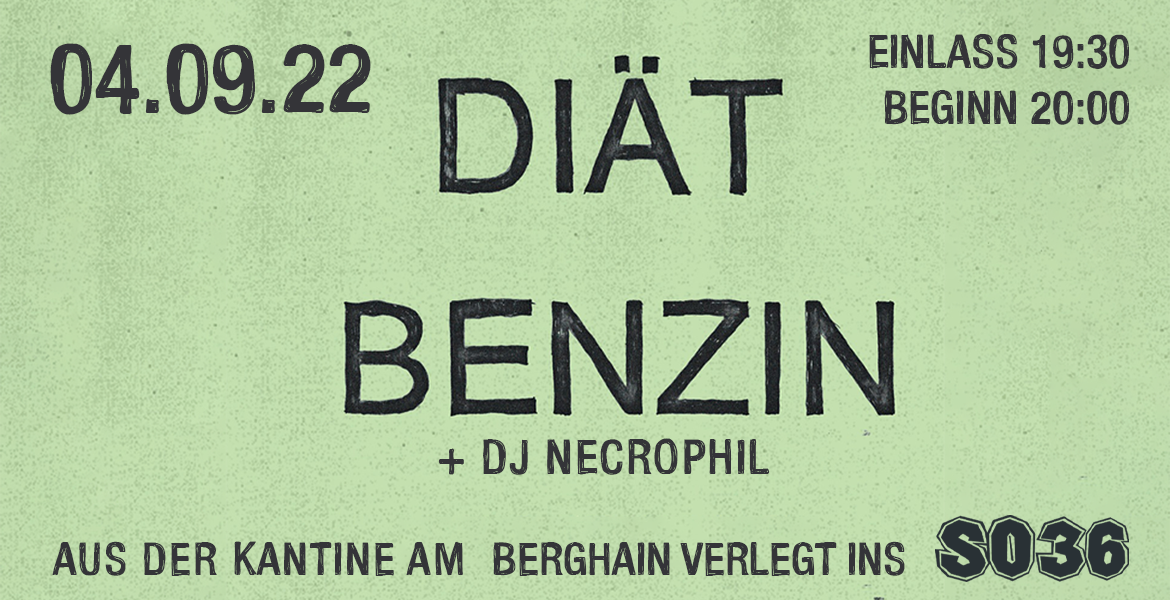 Verlegt ins SO36
Tickets für
DIÄT / BENZIN

+ DJ Necrophil 04.09.22 in Berlin, SO36
Tickets – DIÄT / BENZIN
Berlin
---
Informationen
ACHTUNG: Verlegt von der Kantine am Berghain in's SO36


DIÄT - Iron Lung Records / La Vida Es Un Mus
They call it 'Tuff New Wave', others call it 'Post Punk'. Call it what you want, at the end of the day it's a fusion of everything they like about British peace punk, sentimental sounding New Zealand stuff, Australian outsider synth experiments and all those bands from Eastern Europe that copied Killing Joke.
Popular for five minutes before the day jobs and mundane reality they wrote their bumout anthems about consumed them for real, the shoddy little adventure this band chartered across its two albums, 'Positive Energy' (2015) and 'Positive Disintegration' (2019) left too deep an imprint on the hearts of all members that when the chance arose to bash out the anti-tunes once again, they felt they had no choice but to seize it like the last cold Krombacher from the Tommy Haus Tresen.
This is the sound of checking your bank balance to see if you've been paid yet when you haven't. This is Diät!
Remixed and remastered version of sophomore 12" 'Positive Disintegration' about to drop on LVEUM.
Only EU gig for the foreseeable future.
BENZIN - Billo Tonträger
Legends in their own time, Benzin burst out in '19 with a red hot demo and blistering live show that still has people talking. After well and truly putting Allee der Kosmonauten on the map, they are back to fly the ADK flag and take no god damn prisoners. Searing, snooty, sophisticated punk rock, too tidy for the trailer park, too true for the charts. Benzin!
https://billotontraeger.bandcamp.com/album/benzin-demo
DJ NECROPHIL
Co-runner of Berlin's cult goth / post punk party series 'Death Disco' over 10 years ago, Necro was literally the first person ever to show us The Chameleons. He explained to us the track we were hearing was actually the demo version and better than the official release. Then he did a shot of Jäger before a friend jumped on his back and he ran, piggybacking her, out onto the street. Best DJ in the world.