14.08.21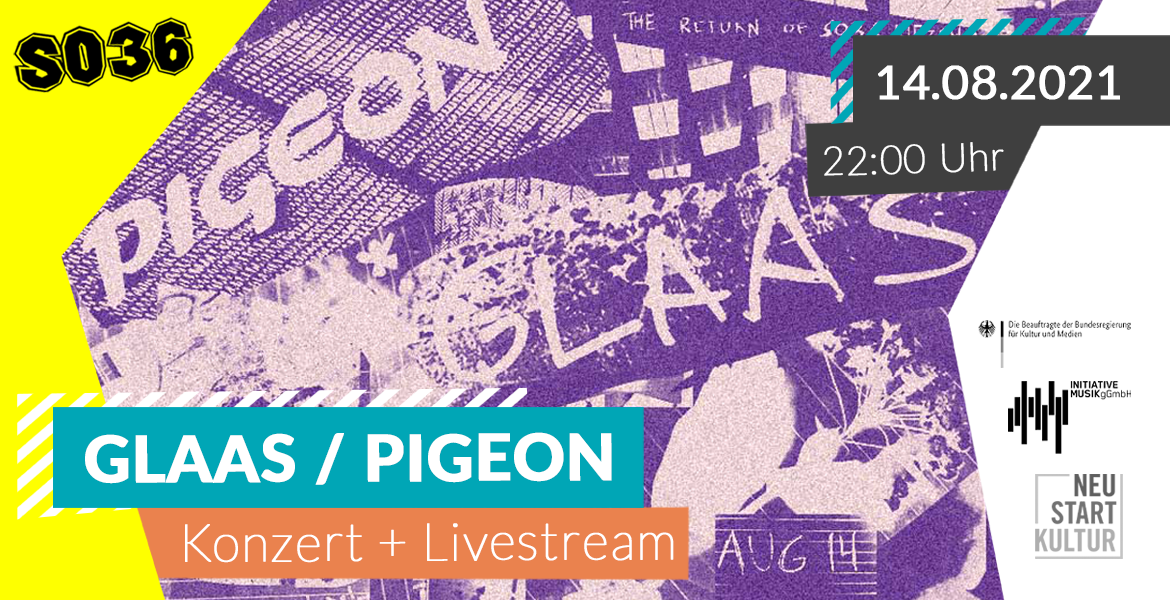 Konzert
Tickets für
GLAAS / PIGEON

The return of SO36 Kiezshows 14.08.21 in Berlin, SO36
Tickets zu GLAAS / PIGEON
Berlin
---
Informationen
Livestream bei Youtube:
https://youtu.be/KdXPkQUkNZg
EINLASS NUR MIT EINER BESCHEINIGUNG ÜBER EINEN NEGATIVEN COVID-19 SCHNELLTEST (NICHT ÄLTER ALS 24 STUNDEN). VOLLSTÄNDIG GEIMPFTE UND GENESENE BRAUCHEN BEI NACHWEIS KEINEN NEGATIVEN TEST. ABSEITS DES EIGENEN SITZPLATZES IST DAS TRAGEN EINER FFP2 ODER MEDIZINISCHEN MASKE VERPFLICHTEND. AM PLATZ KANN DIESE ABGENOMMEN WERDEN.

ADMISSION ONLY WITH A CERTIFICATE OF A NEGATIVE COVID-19 RAPID TEST (NOT OLDER THAN 24 HOURS). DOUBLE VACCINATED AND RECOVERED PERSONS DO NOT NEED A NEGATIVE TEST IF THEY CAN PROVE IT. OUTSIDE OF YOUR OWN SEAT YOU HAVE TO WERA A MEDICAL OR FFP2 MASK.
Erklärung zu den Tickets: Wenn ihr zu zweit oder in Gruppe zusammensitzen wollt, kauft euch bitte ein 2er, 3er, 4er oder 6er Ticket. Die Einzelplätze sind gedacht für Menschen die alleine kommen wollen. Ihr werdet nach Kauf des Tickets nach den Kontaktdaten gefragt für alle Tickets. Wenn ihr die für eure Begleitungen nicht wisst, kein Problem schreibt Platzhalter rein, das kann im Nachhinein noch geändert werden.
Mit dem Kauf eines Livestream Soli-Tickets unterstützt ihr die Künstler*innen und das SO36. Der Livestream wird auch ohne den Kauf eines Tickets verfügbar sein. Die Soli-Tickets für den Livestream berechtigen nicht zum Einlass der Show ins SO36. Dafür ist der Kauf eines Einzel-, 2er oder 3er Tickets notwendig.

The return of SO36 Kiezshows with:

GLAAS
New Berlin Worldpunk band founded during the worst days of the pandemic.
5 people, 5 Nationalities. Rhythmic, noisy, dark Synth-Punk-blasts with members of Useless Eaters, Exit Group, The Shocks, Das Das, Laquer, Cage Kicker, ÖPNV, P.U.F.F., Idiota Civilizzato, Life Fucker, Modern Pets blablabla…. you know what to expect. Do you?
First "official" show. Don´t miss it!

PIGEON
Contemporary Berlin Post-Punk. Dry, restive and full of guitar feedback.
2 albums and an Ep deep on labels like Adagio 830 and This Charming Man Records and all members are involved in so many other projects around Allee der Kosmonauten collective like Liiek, Ostseetraum, Benzin and so on…. think Wire and New Zealand´s noiserock band The Gordons and you´ll be around where they are.