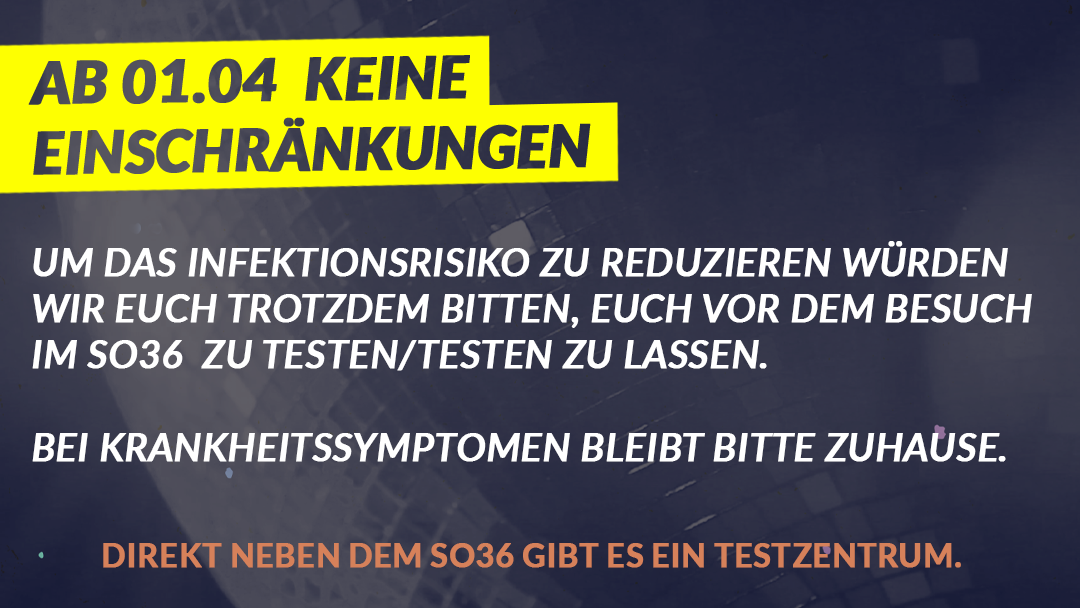 𝗔𝗕 𝟬𝟭.𝟬𝟰 𝗞𝗘𝗜𝗡𝗘 𝗘𝗜𝗡𝗦𝗖𝗛𝗥𝗔̈𝗡𝗞𝗨𝗡𝗚𝗘𝗡

Um das Infektionsrisiko zu reduzieren würde wir euch trotzdem bitten, euch vor dem Besuch im SO36 zu testen. Bei Krankheitssymptomen bleibt bitte zuhause. Direkt neben dem SO36 gibt es ein Testzentrum.
𝗡𝗢 𝗥𝗘𝗦𝗧𝗥𝗜𝗖𝗧𝗜𝗢𝗡𝗦 𝗙𝗥𝗢𝗠 𝟬𝟭.𝟬𝟰

In order to reduce the risk of infection, we would still ask you to test yourself or get tested before visiting SO36. If you have symptoms of illness, please stay at home. There is a test center next to the SO36.