13.08.21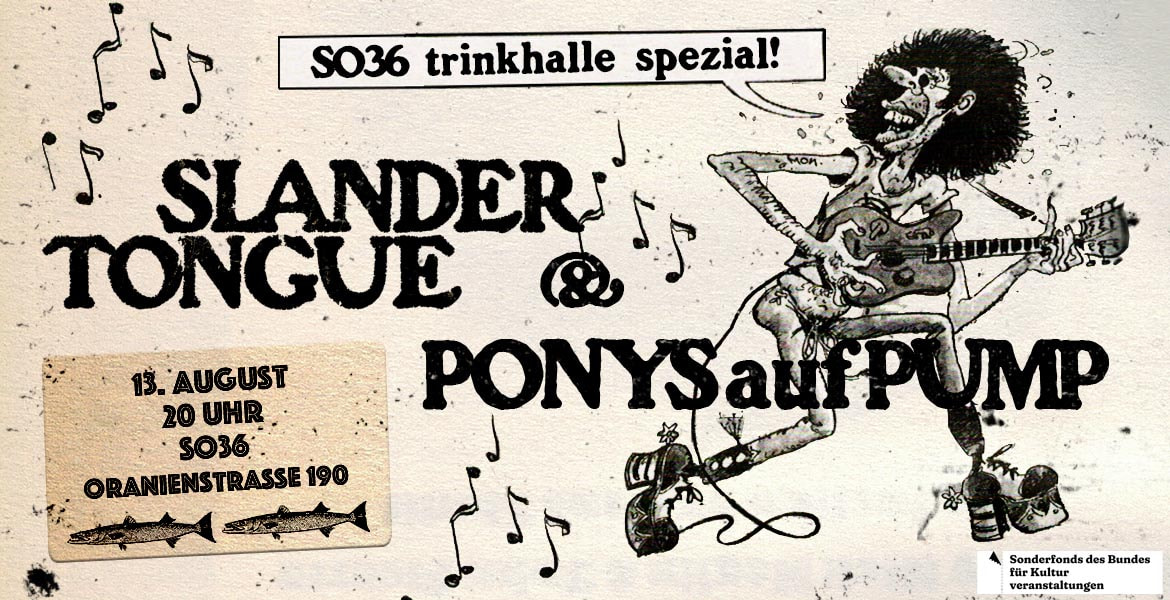 Konzert
Tickets für
SLANDER TONGUE / PONYS AUF PUMP

Trinkhalle Spezial 13.08.21 in Berlin, SO36
Tickets zu SLANDER TONGUE / PONYS AUF PUMP
Berlin
---
Informationen
EINLASS NUR MIT EINER BESCHEINIGUNG ÜBER EINEN NEGATIVEN COVID-19 SCHNELLTEST (NICHT ÄLTER ALS 24 STUNDEN). VOLLSTÄNDIG GEIMPFTE UND GENESENE BRAUCHEN BEI NACHWEIS KEINEN NEGATIVEN TEST. ABSEITS DES EIGENEN SITZPLATZES IST DAS TRAGEN EINER FFP2 ODER MEDIZINISCHEN MASKE VERPFLICHTEND. AM PLATZ KANN DIESE ABGENOMMEN WERDEN.

ADMISSION ONLY WITH A CERTIFICATE OF A NEGATIVE COVID-19 RAPID TEST (NOT OLDER THAN 24 HOURS). DOUBLE VACCINATED AND RECOVERED PERSONS DO NOT NEED A NEGATIVE TEST IF THEY CAN PROVE IT. OUTSIDE OF YOUR OWN SEAT YOU HAVE TO WERA A MEDICAL OR FFP2 MASK.
Erklärung zu den Tickets: Wenn ihr zu zweit oder in Gruppe zusammensitzen wollt, kauft euch bitte ein 2er, 3er, 4er oder 6er Ticket. Die Einzelplätze sind gedacht für Menschen die alleine kommen wollen. Ihr werdet nach Kauf des Tickets nach den Kontaktdaten gefragt für alle Tickets. Wenn ihr die für eure Begleitungen nicht wisst, kein Problem schreibt Platzhalter rein, das kann im Nachhinein noch geändert werden.

SLANDER TONGUE
…Is a crazy gang of Berlin Bush Cowboys, with two phenomenal singles and an album on Slovenly Records stuck in the back of their Urban Rock denims already. After exhaustive studies of Real Kids demo tracks those Brownsville Station school punks are now aiming at your nicotine intoxicated lungs. Think of Johnny Thunders sharing a ride with Fred "Sonic" Smith, while Ian Hunter and Chris Bailey are drunk in the backseat howling along to a beat up tape of "Goat's Head Soup."
Ex- Modern Pets/Bikes/King Khan And The Shrines/Sick Horse….

https://slandertongue.bandcamp.com



PONYS AUF PUMP
Is a 4-piece 80s style dilettante synth punk combo from Berlin. The tempo is snappy, the vocals mostly polyphonic. Even if the lyrics are often dystopian, the focus is on positive vibrations. In June of this year, the new LP "Wirt schon wieder" was released on Phantom Records.

https://ponysaufpump.bandcamp.com