12.10.21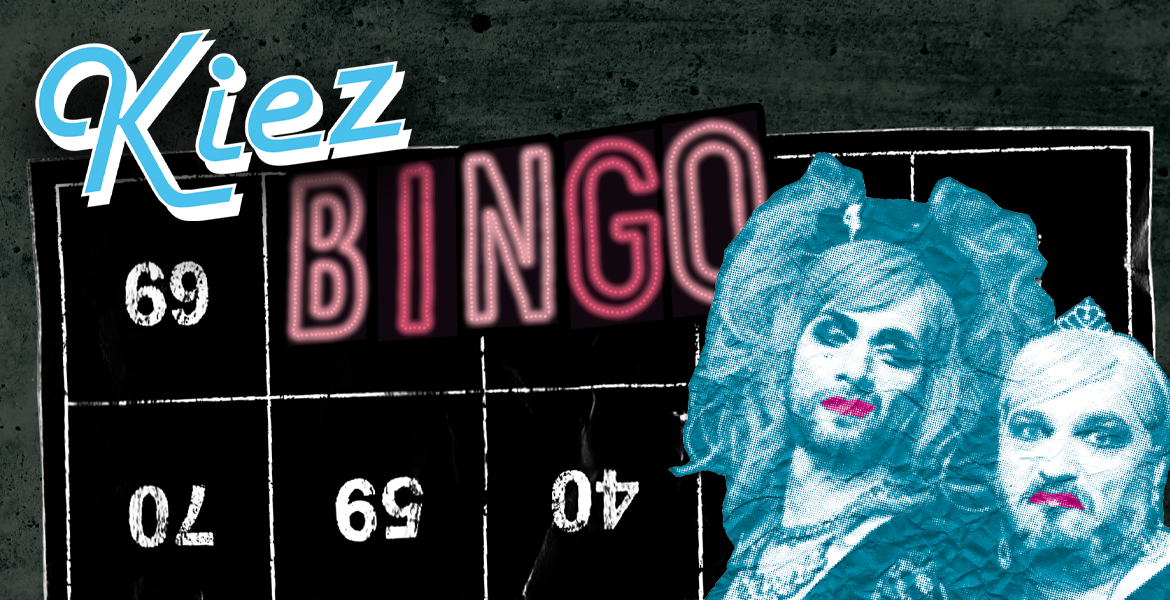 Event
Tickets für
KIEZBINGO

Präsentiert von Inge Borg & Gisela Sommer 12.10.21 in Berlin, SO36
Tickets zu KIEZBINGO
Berlin
---
Informationen
ACHTUNG: ES GILT 2 G! EINLASS NUR MIT IMPFZERTIFIKAT ODER GENESENENNACHWEIS!
ATTENTION: ENTRANCE ONLY WITH VACCINATION CERTIFICATE OR PROOF OF RECOVERY!
Nature is healing.
Die Kugeln rollen wieder, die Moderation übrigens auch. Gisela ist fett geworden, Inge ist fett geblieben.
Alles wie früher, bloß anders, besser, älter.
Es wird irre schön.
Weiß überhaupt noch jemand, wie man BINGO spielt?
PS: Es wird auch Karten an der Abendkasse geben
Garderobe: frei.
Begünstigtes Projekt: der Köpi Wagenplatz
Der Kampf um den KØPI Wagenplatz geht weiter!
Am 10. Juni 2021 wurde vor dem Kriminalgericht Moabit die Räumung des Køpi-Wagenplatz verhandelt. Als Ergebnis erhielt der Kläger einen Räumungstitel, obwohl es schwerwiegende Zweifel darüber gab, ob die Anwälte überhaupt in seinem Auftrag agierten. Die Unterschrift in der von den Anwälten vorgelegte Vollmacht hat keine Ähnlichkeit mit den früher unterzeichneten Dokumenten des Klägers.
Die bestehenden Zweifel an seiner Authentizität begründen das eingeleitete Berufungsverfahren. Den Bewohner*innen des Køpi-Wagenplatz droht trotzdem akut der Verlust ihrer Wohnraums.