26.11.21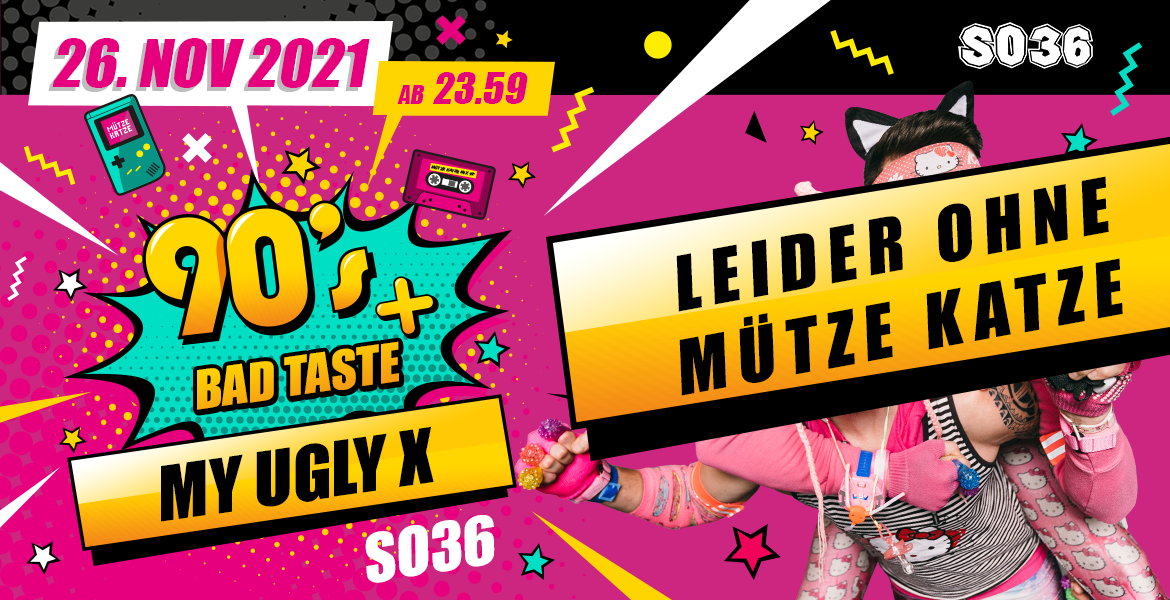 Eurodance & Bad Taste & Trash!
Tickets für
MY UGLY X

LIVE: DJ PomoZ und DJ Banu 26.11.21 in Berlin, SO36
Tickets – MY UGLY X
Berlin
---
Informationen
ACHTUNG 2G+ Einlass nur mit einem gültigen digital verifizierbaren Impfzertifikat oder Nachweis der Genesung, in Kombination mit eurem Personalausweis und einem tagesaktuellen, zertifizierten Schnelltest. Am schnellsten geht es beim Einlass, wenn ihr auch den Test in einer der gängigen Apps hinterlegt, so dass wir nur den QR Code scannen müssen.
ATTENTION 2G + admission only with a valid digitally verifiable vaccination certificate or proof of recovery, in combination with your identity card and a daily, certified rapid test. The fastest way to get in is if you also save the test in one of the popular apps so that we only have to scan the QR code.

𝙈𝙔 𝙐𝙂𝙇𝙔 𝙓 - 𝙞𝙨 𝙗𝙖𝙘𝙠


Die bunte, verrückte, ausgefallene 90er Bad Taste Eurodanceklatschen Boybandverbrechenparty im SO36 ist zurück!
Und zwar genau 1x bevor wir 2022 wieder richtig durchstarten, lassen wir für diese einmalige CLUB-Show am 26.11.2021 die Katze aus dem Sack!
BAD CORONA NEWS!
Schweren Herzen müssen wir den Live Auftritt von MÜTZE KATZE wegen Corona auf ein unbestimmtes Datum verschieben!
Wir haben uns so gefreut, euch diese Party gewordene Glitzer-Eskalation zu präsentieren. Aber Corona hat uns mal wieder eine Strich durch die Rechnung gemacht.
Aber auch ohne die beiden Jungs versprechen wir euch eine Party die sich gewaschen hat! Ihr habt danach definitiv Glitzer im Herzen und Muskelkater im Tanzbein. Wetten, dass…? Egal ob Vengaboys, Atomic Kitten, Caught in the Act, Rednex, Die Atzen, Dr. Alban, Haddaway, Captain Jack, Loona, Mr. President, Lou Bega oder 2 Unlimited…
Wir erinnern euch an Zeiten, wo Handys noch Antennen hatten und Schuhe Plateau. Packt die Schnullerketten aus, schmeißt euch in euer ugly Lieblingsoutfit und feiert mit uns bis zum nächsten Lockdown!
DJ PomoZ und DJ Banu wissen auch, wie man eine Party so richtig abreißt und werden alles geben den Abend für euch unvergesslich zu machen! Alles glitzert, alles blinkt. Und ihr seid mittendrin!
Wer ohne MÜTZE KATZE nicht feiern kann und lieber sein Geld zurück haben will, anstatt mit uns die Party des Jahres zu feiern kann die Tickets entspannt hier im Shop zurück geben.
Shortfacts:
Freitag 26.11.2021
Einlass: 23:59 Uhr
DJ: PomoZ & Banu
Eintrittspreise:
VVK: Gruppenticket (limitiert) 5 x Eintritt für 40€
VVK: Normales Ticket für 10€
VVK: Skip the Line Ticket für 12€
Abendkasse: 13€