31.08.22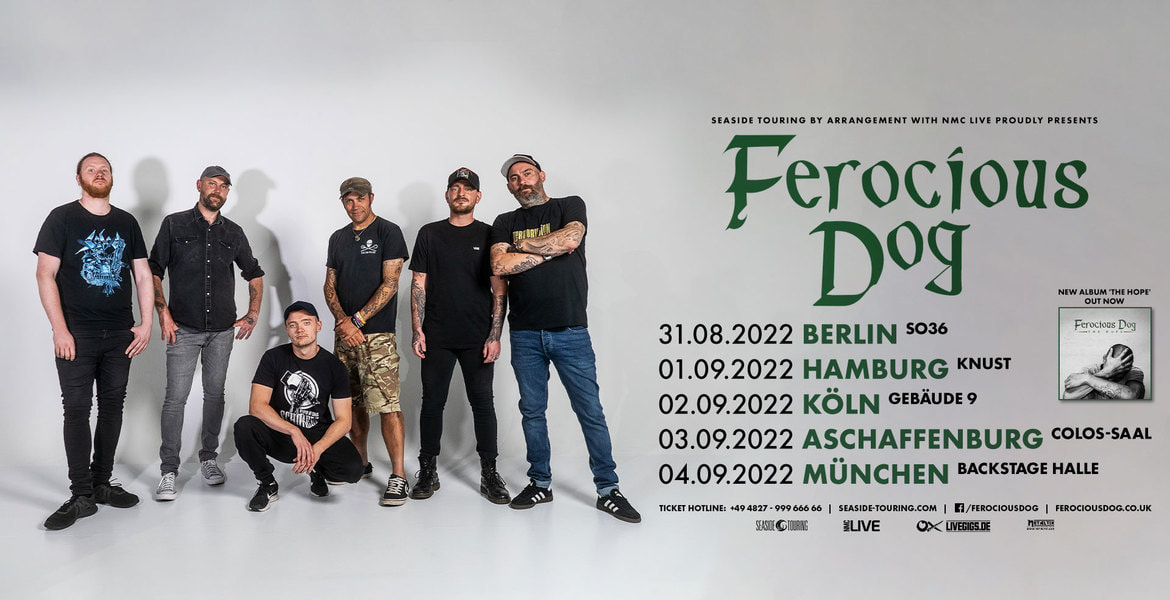 Konzert
Tickets für
FEROCIOUS DOG

Die Veranstaltung wird verlegt. Ein neuer Termin wird noch bekannt gegeben. Karten bleiben gültig. 31.08.22 in Berlin, SO36
Tickets – FEROCIOUS DOG
Berlin
---
Informationen

Due to the relentless rise in touring costs we are devastated to announce that we will be postponing and rescheduling the following dates:

- Hamburg
- Berlin
- Cologne
- Aschaffenburg
- Munich

We currently have several shows in the Netherlands booked for the 1st quarter of 2023, we plan on combining the rescheduled dates with the shows in the Netherlands to form a short European tour.

We hope you understand that it is out of our hands, inflation has made touring extremely difficult for bands. However, we are already excited to come back and see our European Hell Hounds!'

Keep an eye on our social's, updates and announcements will follow shortly.

**************

Ferocious Dog sind eine sechsköpfige Band, die sich mit einer lebendigen Ader von keltischem Folk-Punkrock beschäftigt und sich bequem zwischen Billy Bragg und The Levellers einfügt. Wie The Levellers und New Model Army (ebenfalls als Einfluss aufgeführt) haben Ferocious Dog jedoch ein breites Spektrum an Einflüssen, die durch die linksgerichteten Überzeugungen der Band und den gemeinsamen Wunsch, durch Musik zu kommunizieren, zusammengehalten werden.
Die Band hat Tourneen durch Großbritannien und Europa geleitet, trat in Kenia und Dubai auf, spielte unter anderem auf Festivals wie Bearded Theory, Alchemy, Deerstock, Farmer Phil's Festival, Splendour, Lowlands (Niederlande), Glastonbury Festival und Beautiful Days.