30.03.22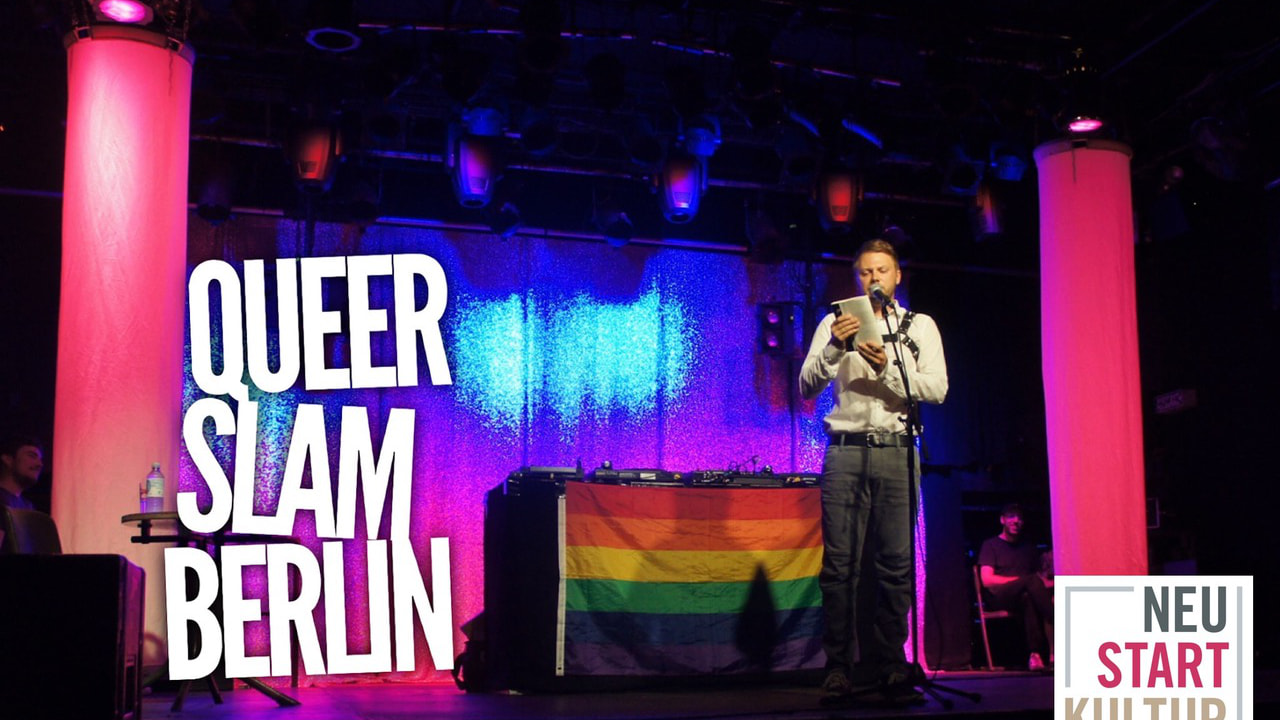 Event
Tickets für
QUEER SLAM BERLIN

von und für die LGBTQ+ Community und alle Sympathisant:innen 30.03.22 in Berlin, SO36
Tickets – QUEER SLAM BERLIN
Berlin
---
Informationen
ACHTUNG 2G+ EINLASS NUR MIT EINEM GÜLTIGEN DIGITAL VERIFIZIERBAREN IMPFZERTIFIKAT ODER NACHWEIS DER GENESUNG, IN KOMBINATION MIT EUREM PERSONALAUSWEIS UND EINEM TAGESAKTUELLEN, ZERTIFIZIERTEN SCHNELLTEST AUCH WENN IHR GEBOOSTERT SEID. AM SCHNELLSTEN GEHT ES BEIM EINLASS, WENN IHR AUCH DEN TEST IN EINER DER GÄNGIGEN APPS HINTERLEGT, SO DASS WIR NUR DEN QR CODE SCANNEN MÜSSEN.
ATTENTION 2G + ADMISSION ONLY WITH A VALID DIGITALLY VERIFIABLE VACCINATION CERTIFICATE OR PROOF OF RECOVERY, IN COMBINATION WITH YOUR IDENTITY CARD AND A DAILY, CERTIFIED RAPID TEST EVEN IF YOU ARE BOOSTED. THE FASTEST WAY TO GET IN IS IF YOU ALSO SAVE THE TEST IN ONE OF THE POPULAR APPS SO THAT WE ONLY HAVE TO SCAN THE QR CODE.

***************************************

Der Berliner Poetry Slam von und für die LGBTQIA+ Community und alle Sympathisant:innen.
Hier geht es bunt zu! Gestandene Poetry Slammer:innen mit Regenbogenbackground vermischen
sich mit Que(e)reinsteigern und tragen ihre selbstverfassten Texte vor. Das Publikum entscheidet
über Qualität, Finaleinzug, Sieg und Niederlage und hat hauptsächlich Spaß.

Im Gegensatz zu den üblichen Poetry-Slam-Regeln sind Verkleidungen und Hilfsmittel nicht
verboten. Es darf schrill zugehen. Alles kann, nichts muss. Kennt ihr vom Online-Dating.
Präsentiert und moderiert wird der Queer Slam Berlin von Gaylord Christian Ritter.

Diesmal dabei:

Luise Komma Klar (Berlin)
Jule Weber (Bochum)
Tony Hückel (Berlin)
Valo Christiansen (Bochum)
David Forkl (Berlin)

Updates zum Line-up auf Instagram: @queerslamberlin
Der Queer Slam Berlin wird unterstützt durch das Programm NEUSTART KULTUR. Vielen Dank.