08.03.22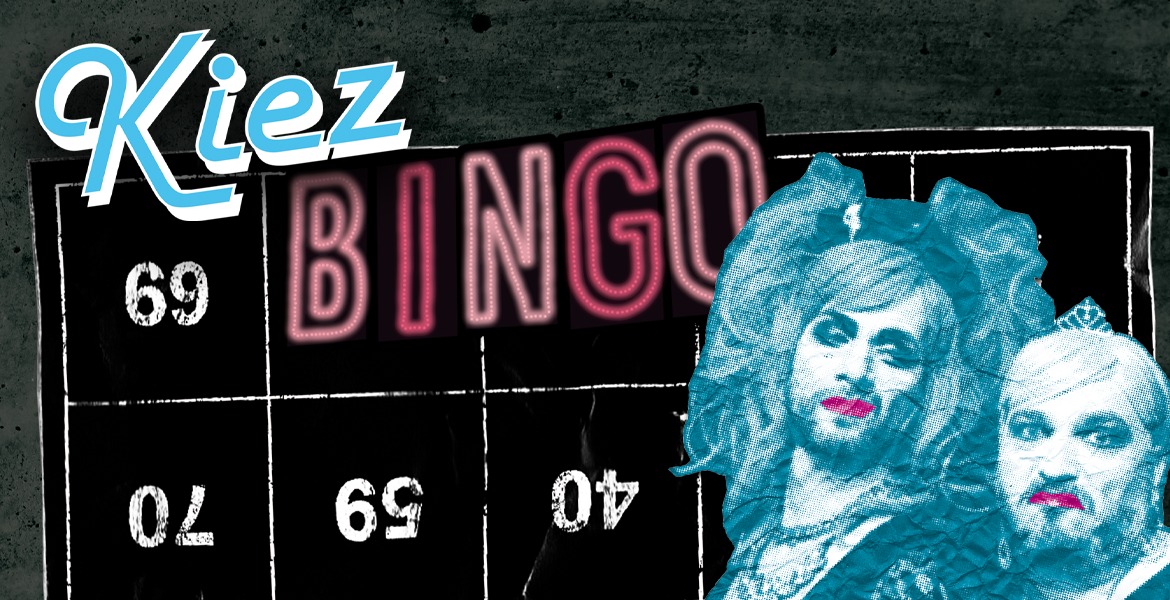 Event
Tickets für
KIEZBINGO

Präsentiert von Inge Borg & Gisela Sommer 08.03.22 in Berlin, SO36
Tickets – KIEZBINGO
Berlin
---
Informationen
ACHTUNG 2G+ EINLASS NUR MIT EINEM GÜLTIGEN DIGITAL VERIFIZIERBAREN IMPFZERTIFIKAT ODER NACHWEIS DER GENESUNG, IN KOMBINATION MIT EUREM PERSONALAUSWEIS UND EINEM TAGESAKTUELLEN, ZERTIFIZIERTEN SCHNELLTEST AUCH WENN IHR GEBOOSTERT SEID. AM SCHNELLSTEN GEHT ES BEIM EINLASS, WENN IHR AUCH DEN TEST IN EINER DER GÄNGIGEN APPS HINTERLEGT, SO DASS WIR NUR DEN QR CODE SCANNEN MÜSSEN.
ATTENTION 2G + ADMISSION ONLY WITH A VALID DIGITALLY VERIFIABLE VACCINATION CERTIFICATE OR PROOF OF RECOVERY, IN COMBINATION WITH YOUR IDENTITY CARD AND A DAILY, CERTIFIED RAPID TEST EVEN IF YOU ARE BOOSTED. THE FASTEST WAY TO GET IN IS IF YOU ALSO SAVE THE TEST IN ONE OF THE POPULAR APPS SO THAT WE ONLY HAVE TO SCAN THE QR CODE.

++++++++++++++++++++++++++++++

Nature is healing.
Die Kugeln rollen wieder, die Moderation übrigens auch. Gisela ist fett geworden, Inge ist fett geblieben.
Alles wie früher, bloß anders, besser, älter.
Es wird irre schön.
Weiß überhaupt noch jemand, wie man BINGO spielt?
Begünstigtes Projekt:
Spinnboden Lesbenarchiv & Bibliothek e.V. | Hier lebt lesbische Geschichte
Der Spinnboden ist eines der weltweit größten Lesbenarchive, entstanden in und aus der Lesbenbewegung der 1970er Jahre, um die eigene(n) Geschichte(n) zu bewahren, die sonst in den herrschenden Erinnerungspolitiken an den Rand gedrängt werden. Hier dokumentieren wir mit mehr als 30.000 Objekten den Wandel und die Vielfalt der Selbstverständnisse, Kulturen und Politiken von Lesben.
Neben der Archiv- und Bibliothekstätigkeit ist der Spinnboden auch ein Community-Ort. Es gibt verschiedene Gruppen und Workshops für gemeinsame Aktivitäten sowie Beratungsangebote. Zudem organisieren wir Veranstaltungen zu lesbisch_queerer Geschichte und Gegenwart.