24.03.22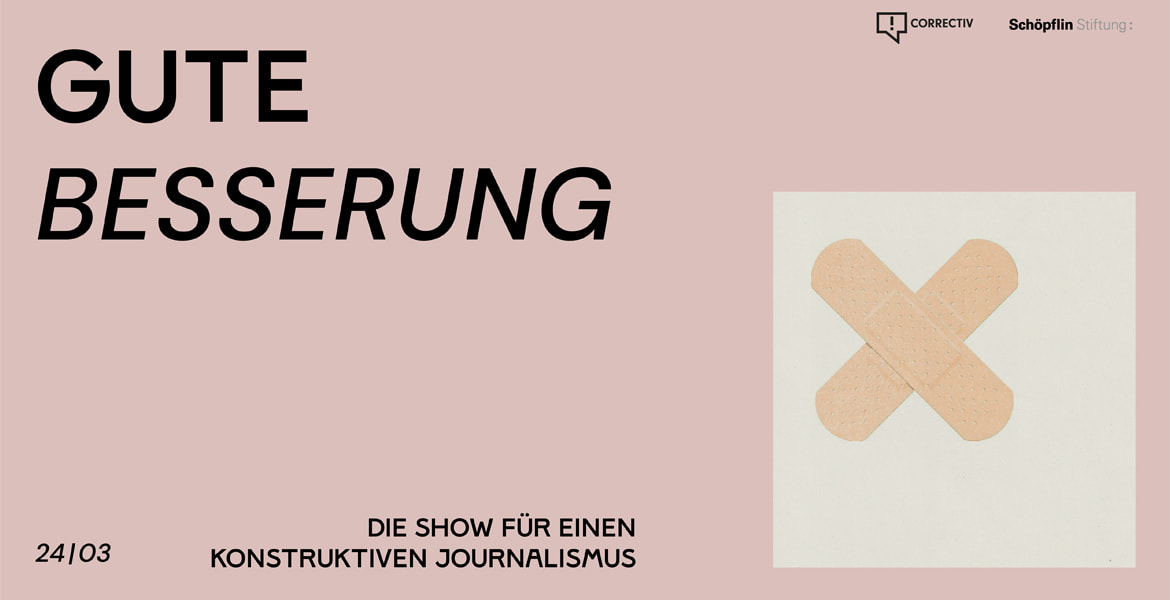 Slam
Tickets für
GUTE BESSERUNG

Die Show für einen konstruktiven Journalismus 24.03.22 in Berlin, SO36
Tickets – GUTE BESSERUNG
Berlin
---
Informationen
ACHTUNG 2G+ EINLASS NUR MIT EINEM GÜLTIGEN DIGITAL VERIFIZIERBAREN IMPFZERTIFIKAT ODER NACHWEIS DER GENESUNG, IN KOMBINATION MIT EUREM PERSONALAUSWEIS UND EINEM TAGESAKTUELLEN, ZERTIFIZIERTEN SCHNELLTEST AUCH WENN IHR GEBOOSTERT SEID. AM SCHNELLSTEN GEHT ES BEIM EINLASS, WENN IHR AUCH DEN TEST IN EINER DER GÄNGIGEN APPS HINTERLEGT, SO DASS WIR NUR DEN QR CODE SCANNEN MÜSSEN.
ATTENTION 2G + ADMISSION ONLY WITH A VALID DIGITALLY VERIFIABLE VACCINATION CERTIFICATE OR PROOF OF RECOVERY, IN COMBINATION WITH YOUR IDENTITY CARD AND A DAILY, CERTIFIED RAPID TEST EVEN IF YOU ARE BOOSTED. THE FASTEST WAY TO GET IN IS IF YOU ALSO SAVE THE TEST IN ONE OF THE POPULAR APPS SO THAT WE ONLY HAVE TO SCAN THE QR CODE.

*****************************************************

Die Organisatoren der deutschlandweit erfolgreichen Reporter Slams haben eine neuartige Show konzipiert. In Zeiten bedrückender Krisen-Berichterstattung zeigen sie, dass ein anderer Journalismus möglich ist: lösungsorientiert! Die Show "Gute Besserung" inspiriert dazu – sowohl die Medien als auch das Publikum.

Tägliche Krisenmeldungen drücken schon lange auf unsere Stimmung. Wie entkommen wir dieser Negativ-Spirale? Indem wir Nachrichten anders konsumieren. Und indem wir anfangen, einander eine neue Art von Geschichten zu erzählen.
Die Autorin Ronja von Wurmb-Seibel zeigt, wie das möglich ist – in ihrem gefeierten neuen Buch "Wie wir die Welt sehen". Auf der Bühne präsentiert sie ihre Ideen für einen konstruktiven Journalismus. Und Reporterinnen aus der Region zeigen, wie sie diese lösungsorientierten Recherchen schon umsetzen: Gesa Steeger & Katarina Huth (Correctiv) sowie Anne-Sophie Brändlin (DW).
Außerdem im Programm: Live-Musik von Bommi & Brummi – und Interaktion mit dem Publikum. Moderiert wird der Abend von Reporter-Slam-Gründer Jochen Markett.
Kooperationspartner sind das Recherchezentrum Correctiv und die Schöpflin Stiftung.

Freuen Sie sich auf "Gute Besserung – die Show für einen konstruktiven Journalismus". Sie werden danach nicht mehr negativ denken – sondern konstruktiv!