04.06.22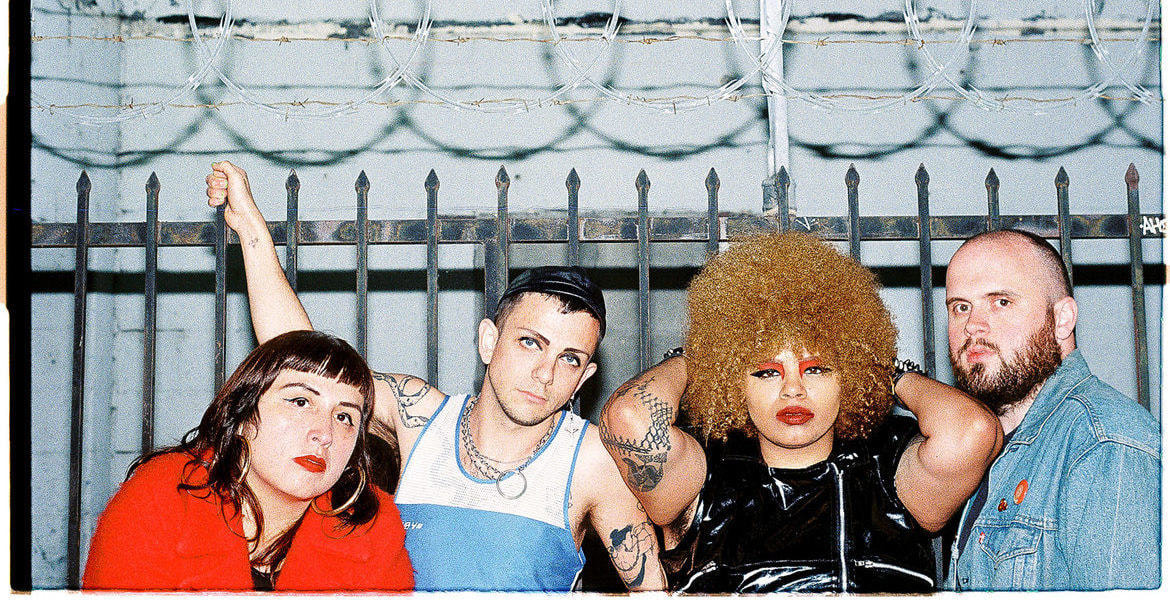 Konzert
Tickets für
SPECIAL INTEREST

Support: CUNTROACHES // Afterparty: Aurelia Dinamita + Ass Struggle/Ass Traitor 04.06.22 in Berlin, SO36
Tickets – SPECIAL INTEREST
Berlin
---
Informationen
SO36 Kiez Shows brings you a queer punk night extravaganza with 2 bands + afterparty
SPECIAL INTEREST is a four piece punk band emerging from New Orleans, Louisiana evasive DIY scene. Combining elements of No-Wave, Glam, and Industrial Special Interest create a frenetic and urgent revisioning of punk and electronic music for a modern world gone mad. Propulsive drum machines, a swirling layer of detuned samples, and a driving bass line create the foundation across which angular guitar work and dissonant synth lines glide. Front and center are Alli Logout's commanding vocals and razor sharp lyrics moving from high camp satire to insightful political imperatives often within the course of one song.
Special Interest initially formed in 2015 to play one show in a basement. Originally a two-piece with Alli Logout and Maria Elena playing guitars and power tools over the beat of a 70's Univox drum machine. Soon after they ditched the power tools and were joined by Ruth Mascelli on electronics and Nathan Cassiani on bass. Special Interest quickly gained a reputation for their intense and energetic live shows. A dense wall of sound oscillating from aggressive and noisy to joyous and danceable punctuated by the no holds barred on stage persona of their vocalist.
After a demo tape (Trust No Wave) and a debut 12" (Spiraling), the group released their second LP The Passion Of in 2020. The Passion Of finds the band with a fuller realization of their sound. While Spiraling documented a band discovering their purpose, The Passion Of is both more chaotic and melodic, daring to finally live up to their notorious wall-of-sound live performances. Massive, juddering beats from an old Electribe sampler and distorted bass provide much of the rhythmic backbone. The effect is purely physical, circumnavigating the brain and heading straight to the body's core. Crass, decolonized guitar work and haunting synth lines cut through the low end noise to serve the album's layers of drama. It's a cloying, intense dynamic that builds to almost unbearable fever pitch at points, threatening to overwhelm and overpower. The Passion Of is a true document of Special Interest as the intense and radical unit they are. Rough Trade Records is excited to announce that we have partnered with the band for their next record. More details on that will be released at a later date.


CUNTROACHES first local live performance since the start of the pandemic! Cuntroaches delivers frenetically wild and crazy destructive, punishing and full-frontal noisy blurring Speed-Punk. Their tracks are mastered by Weasel Walter, what may give you an idea in which territories this band is digging in... new record out in 2022 on Skin Graft Records.


𝗔𝗨𝗥𝗘𝗟𝗜𝗔 𝗗𝗜𝗡𝗔𝗠𝗜𝗧𝗔 𝗔𝗞𝗔. 𝗔𝗠𝗣𝗘𝗥𝗜𝗔 (DIS/TANZ, Trash Me)
Queer, non binary, Berlin-based raver, record collector, club worker and DJ. Resident and curator of Autopoiesis and poly|motion podcasts. Under Aurelia Dinamita runs the post punk-wave events Dis/tanz and Trash me, and is still part of the Sound Systers network and other troublemakers in town.


𝗔𝗦𝗦 𝗦𝗧𝗥𝗨𝗚𝗚𝗟𝗘 /𝗔𝗦𝗦 𝗧𝗥𝗔𝗜𝗧𝗢𝗥 (Autobahn)
Prostate yourself for Big Beautiful Beats