17.11.22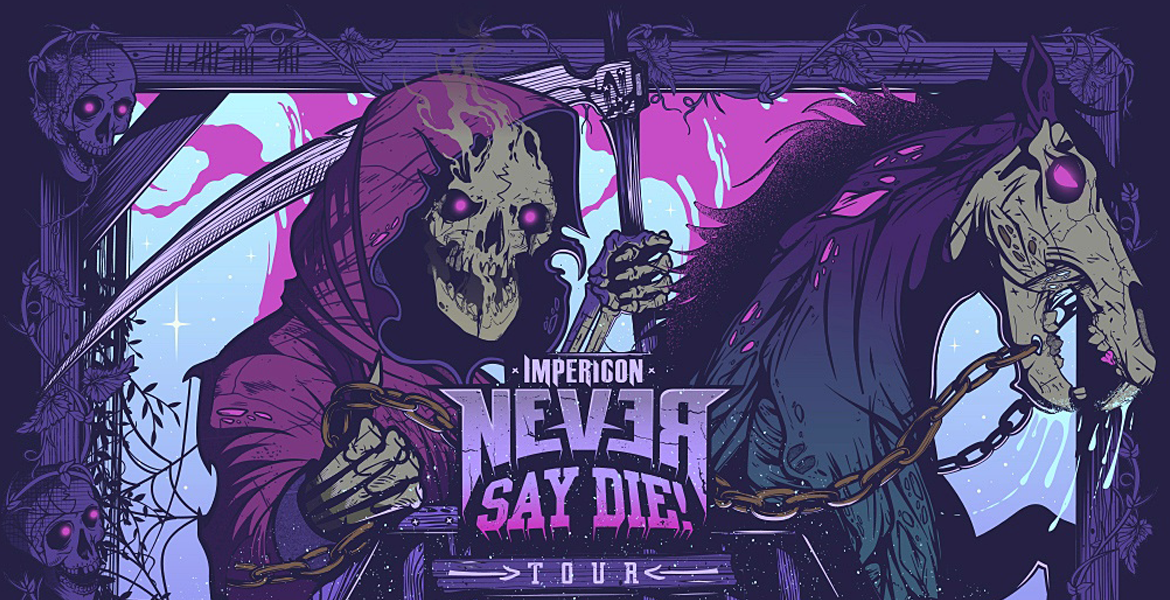 Konzert
Tickets für
SUICIDE SILENCE / AFTER THE BURIAL

IMPERICON NEVER SAY DIE! TOUR 2022 17.11.22 in Berlin, SO36
Tickets zu SUICIDE SILENCE / AFTER THE BURIAL
Berlin
Tickets unter www.dodotickets.de oder www.impericon.com
---
Informationen
Die Impericon Never Say Die! Tour ist zurück. Zwei Headliner und fünf weitere Hochkaräter liefern ein Lineup, das mit allen Wassern gewaschen ist.

Nach pandemiebedingter Pause im Jahr 2020 und geschmälertem Lineup im Jahr 2021, geht es 2022 mit voller Kraft zurück zum gewohnten Konzept – und das gleich mit zwei Headlinern! Niemand geringeres als Suicide Silence und After The Burial teilen sich den letzten Spot auf dem Lineup der Festivaltour.
Vielseitigkeit – mit diesem Trademark hat sich die Impericon Never Say Die! Tour in den letzten Jahren als abwechslungsreiche und colorierte Tour offenbart. Ob Hardcore, Metalcore, Deathcore oder Post-Hardcore. Die bisherigen Lineups lieferten meist einen bunten Mix aus dem Kosmos der modernen Core-Musik und wussten stets mit einem Mix aus etablierten Szene-Helden und hoffnungsvollen Newcomern zu punkten.
12 Jahre nachdem Suicide Silence das erste Mal als Headliner auf der Impericon Never Say Die! Tour gespielt haben, sind sie zurück. Die Band um Sänger Eddie Hermida hat zu ihrem alten Sound zurückgefunden und fokussiert sich mit vollem Commitment auf ihre Deathcore Wurzeln. Als zweiter Headliner kommen After The Burial nach ihrer pandemiebedingt abgebrochenen Tour im Jahr 2020 zurück nach Europa und überzeugen mit ihrem progressiven Deathcore Sound und jeder Menge Groove.
Mit Currents, Invent Animate und Spite befinden sich 3 der ursprünglich für 2021 geplanten Bands wieder im Lineup für 2022. Dabei liefern Currents und Invent Animate feinsten Progressive Metalcore, der mit djentigen Gitarren von der Modernität des Genres überzeugt. Spite hingegen punkten mit noch intensiverer Härte und schließen an einen Sound, der bestens mit den Headlinern matched. Ebenfalls abrasiver Deathcore, der mit Downtempo Elementen gespickt ist, kommt von Cabal, die an Brachialität kaum zu überbieten sind. Als Opener fungieren Boundaries, die mit ihrem Sound von der vielversprechenden Zukunft der US-Amerikanischen Metalcore Szene weisen.
Seit 2007 ist die Impericon Never Say Die! Tour nicht nur ein Sprungbrett für aufstrebende Hardcore und Metal Bands, sondern auch eine Tour mit Festivalcharakter und genredefinierenden Headlinern. Kein Wunder, dass in der Historie der Tour Bands wie Parkway Drive, Stick To Your Guns oder Architects ihren Durchbruch diesem Package zu verdanken haben.
Impericon Never Say Die! Tour 2022
Suicide Silence / After The Burial*
After The Burial / Suicide Silence*
Currents
Spite
Invent Animate
Cabal
Boundaries
* Hinweis: SS/ATB wechseln sich jeden Abend ab.