08.07.22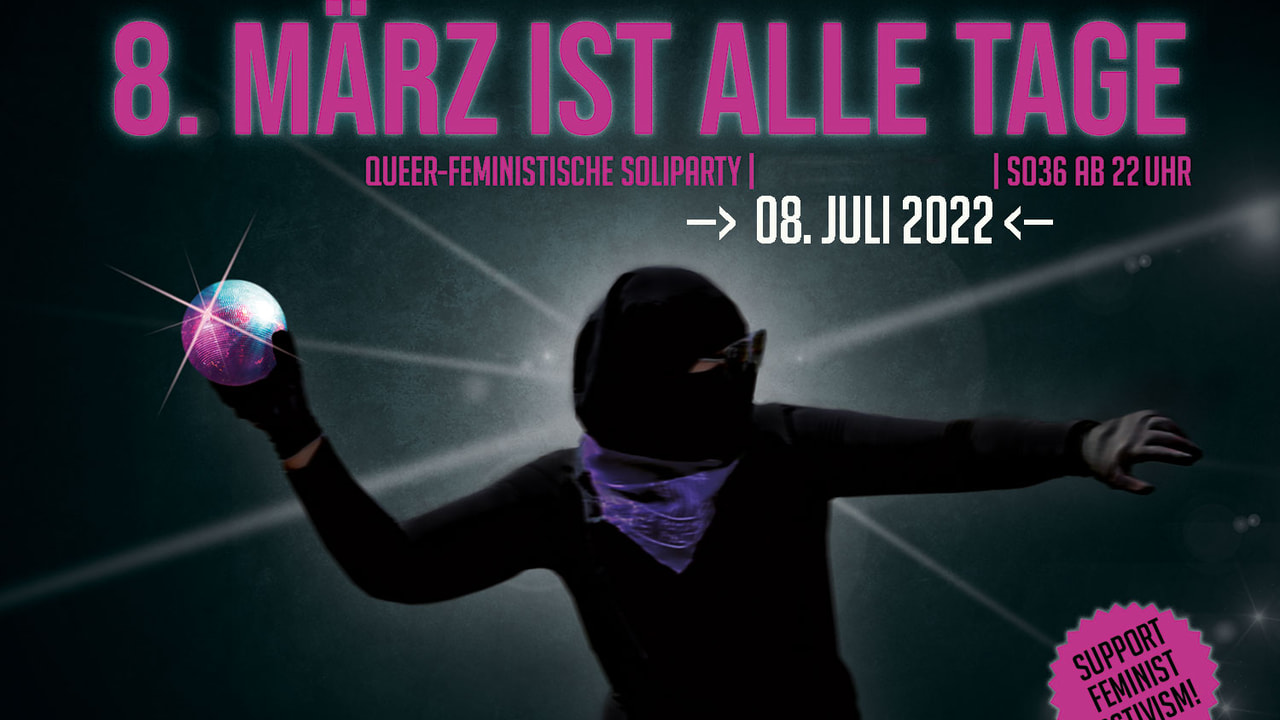 live: ÄLICE UND MARIYBU
Tickets für
8. MÄRZ IST ALLE TAGE

queerfeministische Soliparty 08.07.22 in Berlin, SO36
Tickets zu 8. MÄRZ IST ALLE TAGE
Berlin
---
Informationen
8.MÄRZ IST ALLE TAGE - QUEERFEMINISTISCHE SOLIPARTY
Wir sind lauter als das Patriarchat - und machen auch besser Party! Unsere neue queerfeministische Partyreihe geht in die 3. Runde. Yippie! Neben den fantastischen DJs Sanni Est, Lenki Balboa und Yaso G gibt es Liveauftritte von ÄLICE und MARIYBU.
FLINTA* and friends tanzen Solidarität.

Unser SOLIprojekt ist diesmal Women in Exile. "Women in Exile ist eine Initiative von Flüchtlingsfrauen, die sich 2002 in Brandenburg zusammen gefunden haben, um für ihre Rechte zu kämpfen" (Women in Exile). Zu ihrem 20 Jährigen Bestehen veranstalten sie vom 4. bis 7. 8 eine Konferenz in Berlin: Breaking Borders to Build Bridges. 20 Jahre Women in Exile & Friends.

AK: 10 Euro -15 Euro

VVK: 8 Euro, 11 Euro oder 14 Euro


ÄLICE: Älice will brechen und "Zebra" bricht und kittet zugleich, es ist das Vorwort und gleichzeitig das erste Kapitel zu einer Künstlerin, die es selbst treffend rappt: "Find' mal die Schublade, in die ich passe". In diesem Album bewegt sie sich zwischen vermeintlichen musikalischen Grenzen, zwischen R'n'B, Hip Hop und etwas, das man ungern als Pop bezeichnen will, weilihre Songs dafür einfach zu viel Seele haben. Älice will nicht bedienen, das merkt man sofort, sondern will teilhaben lassen, und dabei zeigt die unbezahlbare Gabe vermeintliche Gegensätze mühelos zusammenzubringen und gut klingen zu lassen. Es macht Sinn, dass sie alle Beats außer einem selbst produziert hat, denn auch wenn jeder Song unterschiedlich ist, lässt sich doch eine Handschrift erkennen. Eine, die von einer Künstlerin zeugt, die scheinbar nicht anders kann als selbst bei nachdenklicheren Songs mindestens zum Two Step zu animieren.
MARIYBU: Macker kriegen Schiss, wenn die Hamburger Rapperin Mariybu das Mic auspackt - und die Bühne brennt, wenn sie ihre Show abliefert. Basslastige Beats, unmissverständliche Ansagen und queerfeministisches Empowerment - alles Marke Mariybu. Mit starker Meinung, progressiven Inhalten und einer kräftigen Stimme trifft sie toxische wie sexistische Dynamiken genau da, wo es weh tun soll. Gleichzeitig beweist die talentierte Künstlerin, dass es im Kampf gegen Patriarchat und Machtgefälle auch Zeit für Pausen, Emotionalität und Verletzlichkeit braucht.