29.01.23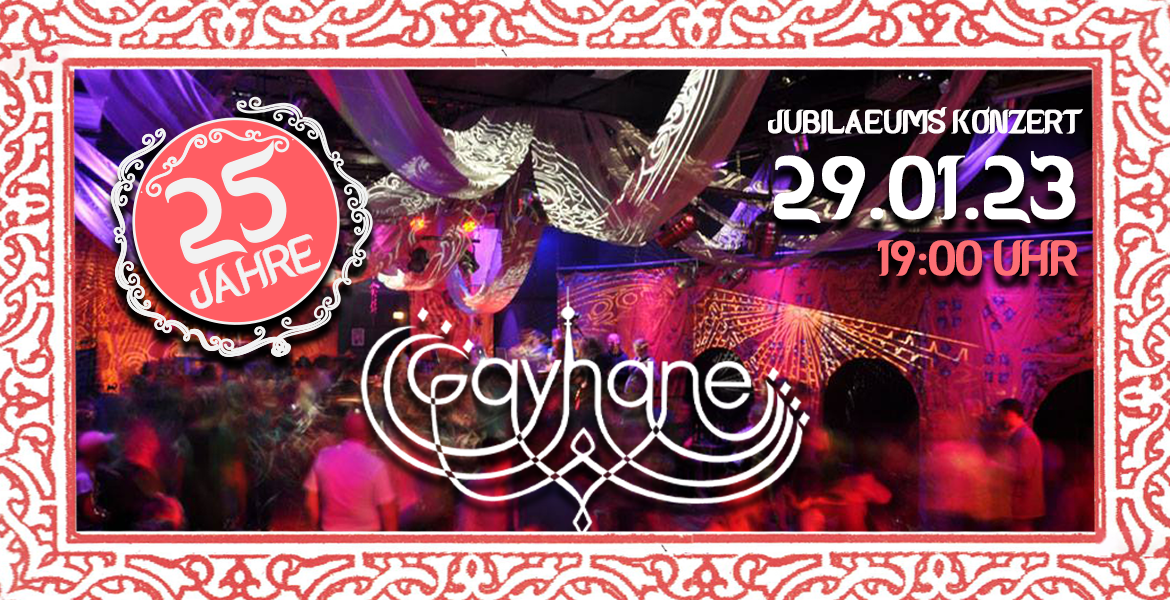 Party
Tickets für
GAYHANE SPEZIAL - JUBILÄUMS KONZERT

Aziza A. und Turgay Ayaydınlı mit Band, Anthony Hüseyin, DJ Ipek 29.01.23 in Berlin, SO36
Tickets – GAYHANE SPEZIAL - JUBILÄUMS KONZERT
Berlin
---
Informationen
Live:

Aziza A. und Turgay Ayaydınlı, Kahraman Kilinc mit Band
Anthony Hüseyin
Tanz: SuzuKiz
DJ Sets: DJ Ipek
hosted by Sabuha Salaam
Das Programm:
Mit GAZINO NIGHT übersetzen Aziza A. und Turgay Ayaydınlı den Geist eines traditionellen Gazinos in eine zeitgemäße Form. Sie schlagen den Bogen der glamourösen Zeiten Istanbuls über die Neu-Anfänge im Berlin der Gastarbeiter-Generation bis zur heutigen vielstimmigen Musikszene der in Berlin lebenden Musiker*innen mit türkischen Wurzeln.
Der Solist aus der türkischen Musikszene Berlins, Kahraman Kilinc, mit seinem Repertoire an türkischen, deutschen und englischen Songs aus den 80er Jahren, wird von einer herausragenden Band um Aziza A. und Turgay Ayaydınlı begleitet.
Anthony Hüseyin (they/them) ist ein_e nicht-binäre Singer-Songwriter_in, interdisziplinäre_r Performer_in und Gesangslehrer_in, ursprünglich aus der Türkei stammend, mit türkisch-kurdischer und arabischer Abstammung.
Anthony Hüseyin eröffnete die Queer Week 2022 im Maksim Gorki Theater mit der Release-Show des Albums Project O. Anthony Hüseyin tourt weiterhin mit Project O in Deutschland und in der EU.

DJ Ipek ist als Resident DJ bei Gayhane von Anfang an dabei und für ihre mitreißenden Live-Sets bekannt, mit denen sie den HomoOriental Dancefloor zum toben bringt.
Sabuha Salaam ist ebenfalls von Anfang an bei Gayhane dabei, bekannt für ihre unwiderstehlichen Performances und unverzichtbar für einen gelungenen Abend.
SuzuKiz arbeitet zurzeit als Tänzerin, Lehrerin und Choreografin mit Spezialisierung auf Raks Sharki. Ihr Perfomancespektrum liegt im Bereich zwischen 'Light and Deep Entertainment'. Sie experimentiert aktuell mit Musikern aus anderen Genres und übt sich dabei in der Kunst der Improvisation.
With Gazino Nights, Aziza A. and Turgay Ayaydınlı translate the spirit of a traditional gazino into a contemporary form. They bridge the gap between Istanbul's glamorous times and the new beginnings in Berlin of the guest worker generation to today's polyphonic music scene of musicians with Turkish roots living in Berlin.
The soloist from Berlin's Turkish music scene, Kahraman Kilinc, with his repertoire of Turkish, German and English songs from the 80s, will be accompanied by an outstanding band led by Aziza A. and Turgay Ayaydınlı.

The Program:

Anthony Hüseyin (they/them) is a non-binary singer-songwriter, interdisciplinary performer and vocal coach, originally from Turkey, of Turkish-Kurdish and Arab descent.
Anthony Hüseyin opened Queer Week 2022 at the Maksim Gorki Theatre with the release show of the album Project O. Anthony Hüseyin continues to tour with Project O in Germany and the EU.


DJ Ipek has been a resident DJ at Gayhane since the beginning and is known for her infectious live sets, with which she makes the HomoOriental dancefloor go wild.

Sabuha Salaam has also been with Gayhane since the beginning, known for her irresistible performances and indispensable for a successful evening.

SuzuKiz currently works as a dancer, teacher and choreographer specialising in Raks Sharki. Her performance spectrum lies between 'Light and Deep Entertainment'. She is currently experimenting with musicians from other genres, practising the art of improvisation.