17.03.23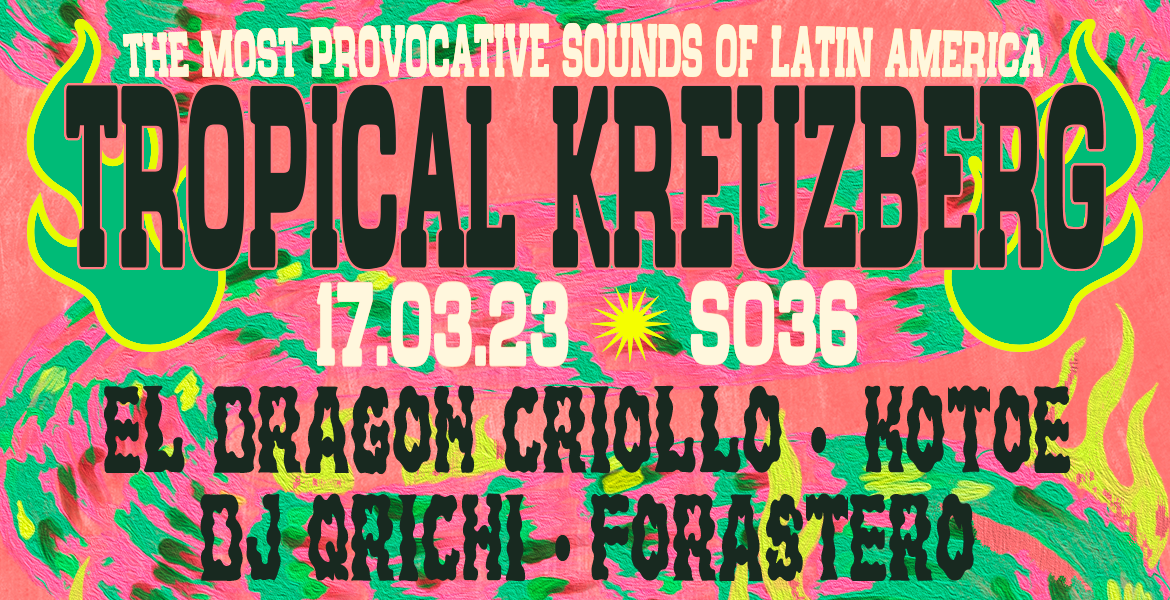 Party
Tickets für
TROPICAL KREUZBERG

The most provocative sounds of Latin American 17.03.23 in Berlin, SO36
Tickets – TROPICAL KREUZBERG
Berlin
---
Informationen
On Friday 17 March, SO36 opens its doors again to celebrate the third edition of Tropical Kreuzberg: a series of parties that will take place every three months to appreciate the most provocative sounds and rhythms of Latin America.
For this occasion, together with Entre Trópicos and Eck Echo we have curated a blend of Cumbia, Colombian-Caribbean, Latin House and Electronic beats.

El Dragón Criollo, Colombian producer, musician and singer, arrives in Berlin with his debut album "Pase Lo Que Pase", which summons a mesmeric sound that represents the Colombian Caribbean's past, present and future!
Likewise, KOTOE will share her musical work where she takes textures from the Asian culture and South American sounds mixed with dark beats and her own voice.
And of course, your favourite hosts Dj Qrichi and Forastero will weave the threads of the night until dawn.
El Dragon Criollo
Kotoe
Dj Qrichi
Forastero
Get your tickets in presale, they fly fast!
Eintritt:
10,- at the door before midnight* / Abendkasse only
12,- after midnight