28.07.23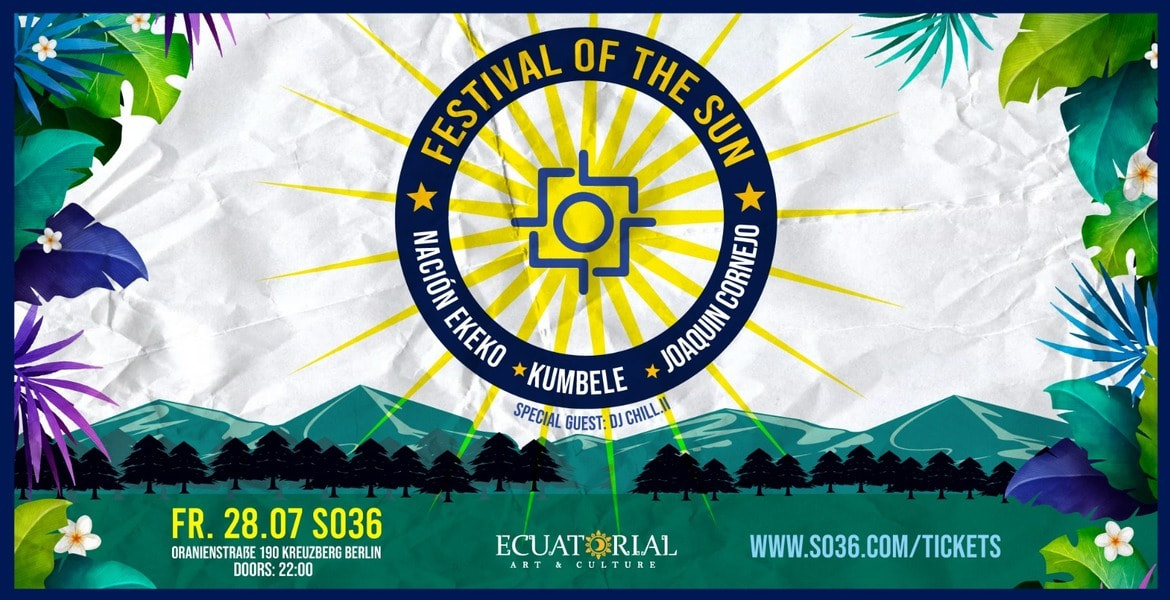 Konzert
Tickets für
FESTIVAL OF THE SUN

Nacion Ekeko, Kumbele, Joaquin Cornejo & Special Guest: DJ Chill.|| 28.07.23 in Berlin, SO36
Tickets – FESTIVAL OF THE SUN
Berlin
---
Informationen
ENGLISH
Sun's spirit lovers can look forward to another edition of the Festival of the Sun in the heart of Berlin, Kreuzberg, SO36.
This year Ecuatorial presents a show that mixes Caribbean floklore and Andean mordernity, to celebrate your inner sun and shake your Bamba, with a sunny!!!
*** KUMBELE - (Artist collective from Palomino, in la Guajira, Colombia) - which explores, preserves and perfoms traditional dances and music of the Colombian Caribbean - especially the "Gaitera Tradition" (Tradición Gaitera), which is a unique musical style born from the crossbreeding of African percussion and Kuisis, a wind instrument of the indigenous peoples of the Caribbean.
*** NACIÓN EKEKO - (Anden House / Downtempo - Argentinien) - The fusion of Andean, Latin American and African sounds with house, dub and technology in the service of improvisation make the music of Nación Ekeko a unique sound journey. Nación Ekeko was born from the encounter with Latin American personalities, songs and concerts. A great musical journey that crosses the open veins of Latin America from one end to the other.
*** JOAQUIN CORNEJO - (deep grooves and avant-garde vibes - Ecuador) - Expect tribal rhythms, deep grooves, left-heavy dub techniques, splashes of footwork and hypnotizing songwriting.
*** DJ CHILL-ii - (Tropical Bass - Spain/Ecuador) - Specializing in making his audience dance, he offers exquisite, finely curated mixes that excite the listener.
Come and enjoy the party of the sun with this wonderful community.
GERMAN
Liebhaber des Sonnengeistes können sich auf eine weitere Ausgabe des Festivals der Sonne im Herzen Berlins, in Kreuzberg, SO36, freuen.
Dieses Jahr präsentiert Ecuatorial eine Show, die karibische Floklore und andine Mordernität mischt, um deine innere Sonne zu feiern und deine Bamba zu schütteln!
*** KUMBELE - (Künstlerkollektiv aus Palomino, in la Guajira, Kolumbien) - das traditionelle Tänze und Musik der kolumbienischen Karibik erforscht, bewahrt und perfom - insbesondere die "Gaitera Tradition" (Tradición Gaitera), die eine einzigartige Musikrichtung ist, die aus der Kreuzung von afrikanischer Perkussion und Kuisis (Blasinstrument der Urvölker der Karibik) entstanden ist.
*** NACIÓN EKEKO - (Anden House / Downtempo - Argentinien) - Die Verschmelzung von andinen, lateinamerikanischen und afrikanischen Klängen mit House, Dub und Technologie im Dienste der Improvisation machen die Musik von Nación Ekeko zu einer einzigartigen Klangreise. Nación Ekeko ist aus der Begegnung mit lateinamerikanischen Persönlichkeiten, Liedern und Konzerten entstanden. Eine große musikalische Reise, die die offenen Adern Lateinamerikas von einem Ende zum anderen durchquert.
*** JOAQUIN CORNEJO - (Stammesrhythmen/ tiefe Grooves und avantgardistische Vibes - Ecuador) - Erwarten Sie Stammesrhythmen, tiefe Grooves, linkslastige Dub-Techniken, Spritzer von Footwork und hypnotisierendes Songwriting.
*** DJ Chill-ii - (Tropischer Bass - Spanien/Ecuador) - Als Spezialist dafür, sein Publikum zum Tanzen zu bringen, bietet er exquisite, fein kuratierte Mixe, die den Hörer begeistern.
Kommen Sie und genießen Sie mit dieser wunderbaren Gemeinschaft die Party der Sonne.