28.08.21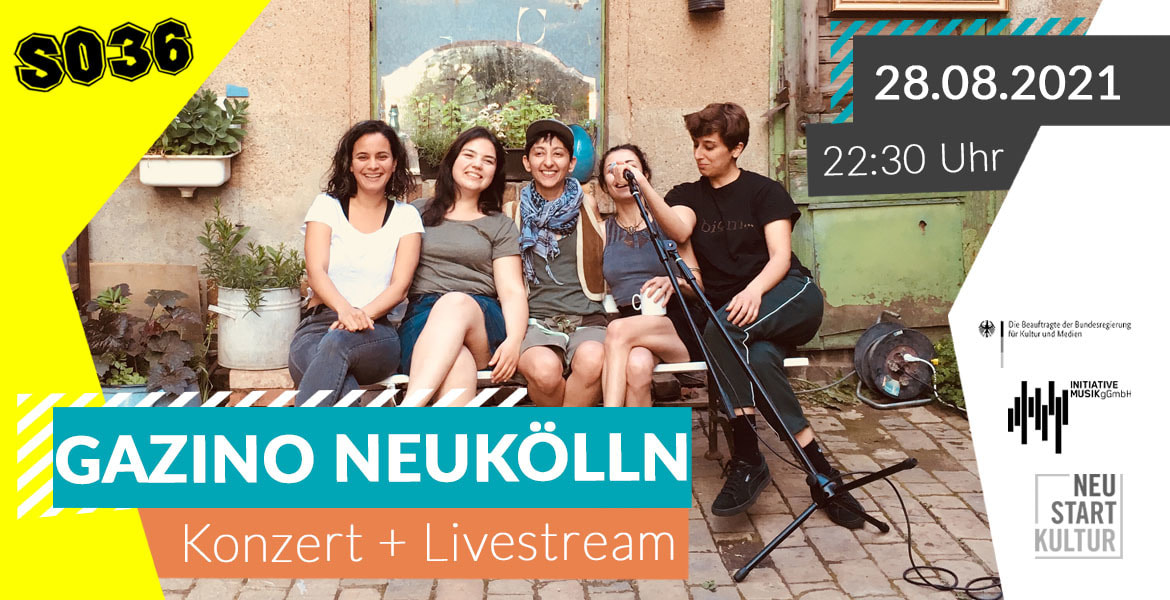 Konzert
Tickets für
GAZINO NEUKÖLLN

live 28.08.21 in Berlin, SO36
Tickets zu GAZINO NEUKÖLLN
Berlin
---
Informationen
EINLASS NUR MIT EINER BESCHEINIGUNG ÜBER EINEN NEGATIVEN COVID-19 SCHNELLTEST (NICHT ÄLTER ALS 24 STUNDEN). VOLLSTÄNDIG GEIMPFTE UND GENESENE BRAUCHEN BEI NACHWEIS KEINEN NEGATIVEN TEST. ABSEITS DES EIGENEN SITZPLATZES IST DAS TRAGEN EINER FFP2 ODER MEDIZINISCHEN MASKE VERPFLICHTEND. AM PLATZ KANN DIESE ABGENOMMEN WERDEN.

ADMISSION ONLY WITH A CERTIFICATE OF A NEGATIVE COVID-19 RAPID TEST (NOT OLDER THAN 24 HOURS). DOUBLE VACCINATED AND RECOVERED PERSONS DO NOT NEED A NEGATIVE TEST IF THEY CAN PROVE IT. OUTSIDE OF YOUR OWN SEAT YOU HAVE TO WERA A MEDICAL OR FFP2 MASK.
Erklärung zu den Tickets: Wenn ihr zu zweit oder in Gruppe zusammensitzen wollt, kauft euch bitte ein 2er, 3er, 4er oder 6er Ticket. Die Einzelplätze sind gedacht für Menschen die alleine kommen wollen. Ihr werdet nach Kauf des Tickets nach den Kontaktdaten gefragt für alle Tickets. Wenn ihr die für eure Begleitungen nicht wisst, kein Problem schreibt Platzhalter rein, das kann im Nachhinein noch geändert werden.
Mit dem Kauf eines Livestream Soli-Tickets unterstützt ihr die Künstler*innen und das SO36. Der Livestream wird auch ohne den Kauf eines Tickets verfügbar sein. Die Soli-Tickets für den Livestream berechtigen nicht zum Einlass der Show ins SO36. Dafür ist der Kauf eines Einzel-, 2er oder 3er Tickets notwendig.

Berlin-based queer-feminist band Gazino Neukölln consists of five women* and non-binary musicians, playing original songs, re-makes and mash-ups mostly in Turkish. The band performs a dream that brings the arabesque-kitsch aesthetic of Gazino (the famous nightclubs from the 1960s and 70s Turkish metropoles) with feminist rage and hope, peppered with queer humour. Their songs revolve around their problem with everyday racism, heterosexist lyrics of queer repertoire, charity instead of solidarity and orientalist white queer politics.