27.11.21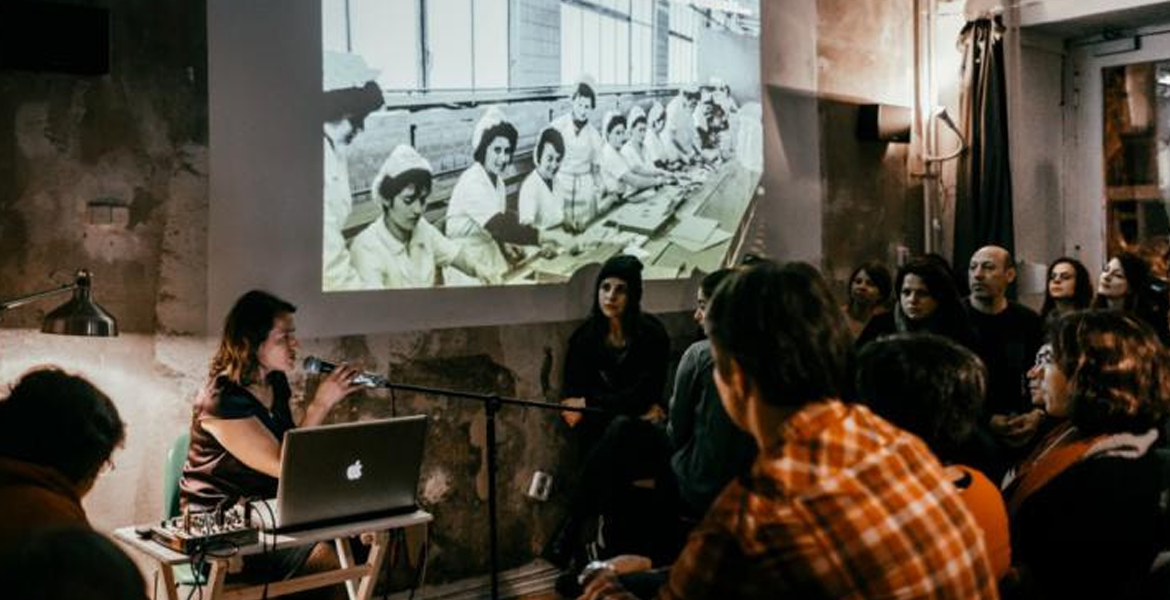 Lesung
Tickets für
DAUGHTERS AND SONS OF GASTARBEITERS

Grenzerfahrungen - Lesung mit dem Literaturkollektiv "Daughters and Sons of Gastarbeiters" 27.11.21 in Berlin, SO36
Tickets – DAUGHTERS AND SONS OF GASTARBEITERS
Berlin
---
Informationen
ACHTUNG 2G+ EINLASS NUR MIT EINEM GÜLTIGEN DIGITAL VERIFIZIERBAREN IMPFZERTIFIKAT ODER NACHWEIS DER GENESUNG, IN KOMBINATION MIT EUREM PERSONALAUSWEIS UND EINEM TAGESAKTUELLEN, ZERTIFIZIERTEN SCHNELLTEST. AM SCHNELLSTEN GEHT ES BEIM EINLASS, WENN IHR AUCH DEN TEST IN EINER DER GÄNGIGEN APPS HINTERLEGT, SO DASS WIR NUR DEN QR CODE SCANNEN MÜSSEN.
ATTENTION 2G + ADMISSION ONLY WITH A VALID DIGITALLY VERIFIABLE VACCINATION CERTIFICATE OR PROOF OF RECOVERY, IN COMBINATION WITH YOUR IDENTITY CARD AND A DAILY, CERTIFIED RAPID TEST. THE FASTEST WAY TO GET IN IS IF YOU ALSO SAVE THE TEST IN ONE OF THE POPULAR APPS SO THAT WE ONLY HAVE TO SCAN THE QR CODE.

Anlässlich des 60–jährigen Jubiläums des deutsch-türkischen Anwerbeabkommens lesen Autorinnen und Autoren des Literaturkollektivs "Daughters and Sons of Gastarbeiters" am 27.11.2021 aus dem Buch "Grenzerfahrungen - Ein Lesebuch der Daughters and Sons of Gastarbeiters", das im November 2021 im Verlag

Verlag Yılmaz-Günay erscheinen wird.

Seit den 1960er Jahren leisteten Gastarbeiter*innen einen erheblichen Beitrag für den wirtschaftlichen Aufschwung in Deutschland, der in der deutschen Erinnerungskultur bislang kaum wertgeschätzt wurde. Die Kinder und Kindeskinder der «ersten Generation» lassen in Erzählungen die Geschichten ihrer Eltern und Großeltern aufleben und verleihen damit einer Generation, die in Vergessenheit geraten ist, eine Stimme. Zugleich verarbeiten sie durch ihr Schreiben die eigene Lebensgeschichte. Die erzählten Geschichten sollen einen Diskurs über das Selbstverständnis und die Relevanz der Einwanderer*innen in der deutschen Gesellschaft eröffnen und gleichzeitig einen Beitrag zur Erinnerungskultur in Deutschland leisten.

Leser*innen:
Rosaria Chirico
Snježana Petrović
Dr. Manuel Gogos
Dr. Martin Hyun
Serkan Deniz
Didem, Yüksel
Moderation: Koray Yılmaz-Günay & Çiçek Bacik

Die Erzählungen werden von Bildprojektionen aus den Familienalben begleitet.

Die Lesung und das bald erscheinende Buch werden vom Auswärtigen Amt gefördert.