16.05.23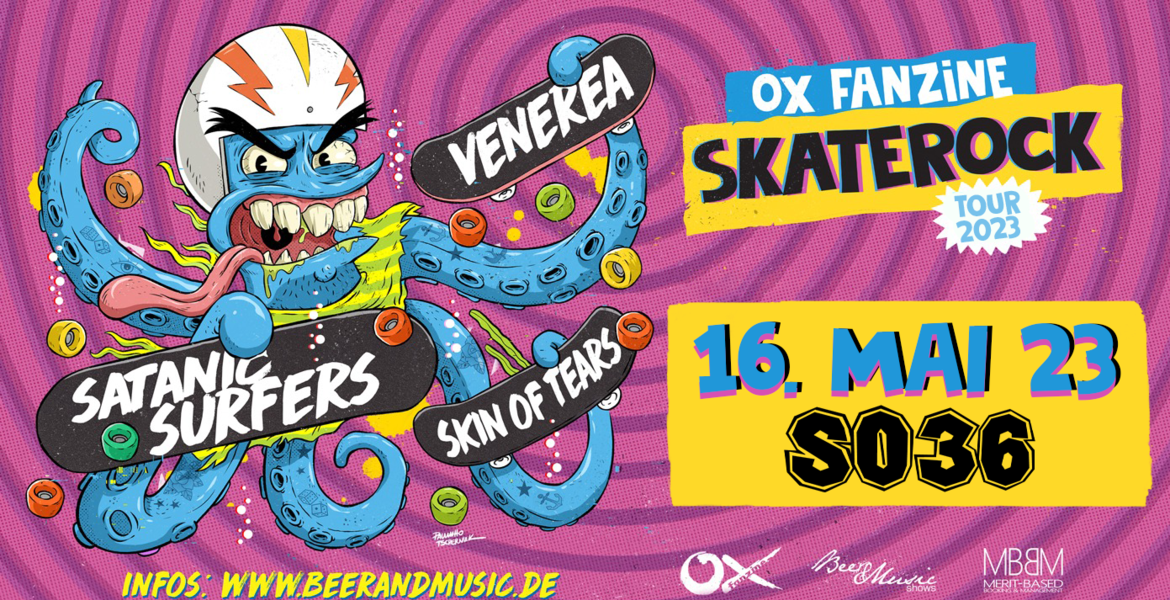 Konzert
Tickets für
OX FANZINE SKATEROCK TOUR 2023

SATANIC SURFERS, VENEREA, SKIN OF TEARS 16.05.23 in Berlin, SO36
Tickets – OX FANZINE SKATEROCK TOUR 2023
Berlin
---
Informationen
Tickets vom 6.09.2022 bleiben gültig.

***************************************************
Ox-Fanzine & Beer & Music präsentieren:
SATANIC SURFERS, VENEREA und SKIN OF TEARS spielen in sechs deutschen Städten.
Feels like 1997! Damals veröffentlichten die Schweden VENEREA ihr Album "Both Ends Burning", und im gleichen Jahr kam von ihren Landsleuten SATANIC SURFERS "666 Motor Inn" – nicht zu vergessen SKIN OF TEARS, die damals gerade ihr Debüt "Shit Happens" veröffentlicht hatten. Alle drei Bands vereinte damals ihre Liebe zum kalifornischen Skatepunk, Labels wie Epitaph, Fat Wreck und Burning Heart feierten große Erfolge mit ultramelodiösem Punkrock, der sich bestens dazu eignete, sich dazu in die Halfpipe zu stürzen. Über 25 Jahre später hängt bei vielen das Skateboard eher dekorativ an der Wand, geblieben ist die Musik, denn alle drei Bands sind auch 2023 noch aktiv und touren eine Woche lang zusammen durch Deutschland.