06.11.23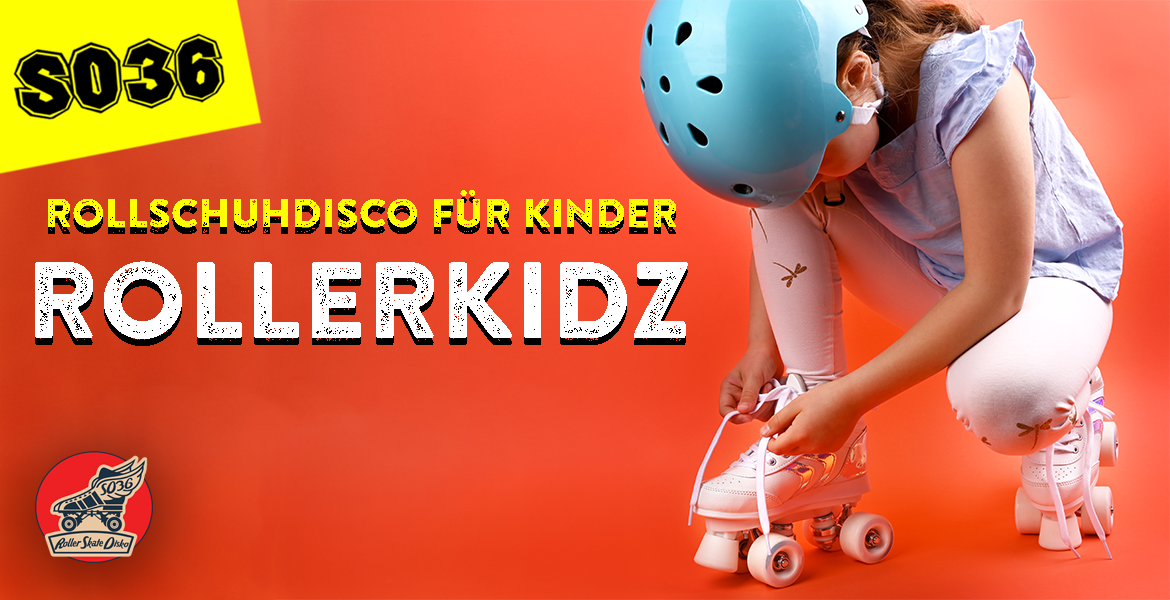 Party
Tickets für
ROLLER KIDZ

Rollschuhdisko für Kinder 06.11.23 in Berlin, SO36
Tickets – ROLLER KIDZ
Berlin
---
Informationen
Rollschuhdisko für Kinder / Bringt eure Rollschuhe und Blades mit!

Es gibt auch Rollschuhe zu leihen, aber in kleinen Größen haben wir nicht soooo viele da!

Inlineskater sind auch willkommen!

Von 16:00 – 18:00 Uhr darf zu cooler Musik durch das legendäre SO36 geskatet, gerollt und getanzt werden. Erlaubt sind Rollschuhe und Rollerblades. Es gibt auch Schuhe zum Ausleihen, allerdings ist hier die Anzahl begrenzt. Der Verleih kostet 2€ pro 1/2 Stunde (gegen Personalausweis o.ä.). Also kommt vorbei und zeigt, was ihr könnt.

Eintritt 3€ Kinder / 9€ Erwachsene

JEDE*R BESUCHER*IN FÄHRT AUF EIGENE VERANTWORTUNG UND GEFAHR.

FAQ (english below):
Wie ist es mit dem Rollschuhverleih und den Größen?
DURCH DEN KAUF EINES ONLINE-TICKETS ERGIBT SICH KEIN ANSPRUCH AUF LEIH-ROLLSCHUHE. DER VORRAT IST BEGRENZT. ES EMPFIEHLT SICH, FRÜH ZU KOMMEN.
IHR KÖNNT NATÜRLICH AUCH EIGENE ROLLSCHUHE/INLINESKATES MITBRINGEN.
ES GIBT DIE GRÖSSEN 35 – 47 / WIR HABEN AUCH EIN PAAR VERSTELLBARE KINDERROLLSCHUHE IN DER GRÖSSE 33 -35
Ist es möglich zu erfahren ob es noch Schuhe in meiner Größe gibt, bevor ich Eintritt bezahle?
DAS IST LEIDER NICHT MÖGLICH. IN DER REGEL KOMMEN ABER REGELMÄSSIG ROLLSCHUHE WIEDER ZURÜCK UND KÖNNEN DANN DIREKT WIEDER AUSGELIEHEN WERDEN.
Kann man als Begleitung auch ohne Rollschuhe ins SO36 und nur zuschauen?
DAS IST NATÜRLICH MÖGLICH. ACHTET HIERBEI BITTE DARAUF, DASS IHR NICHT DIE TANZ/FAHRFLÄCHE BETRETET.
Dürfen Kinder auch zu der späteren ROLLERDISKO kommen oder nur zur ROLLERKIDZ und wie lange dürfen sie bleiben.



IN BEGLEITUNG EINER PERSONENSORGEBERECHTIGTEN ODER ERZIEHUNGSBEAUFTRAGTEN PERSON KÖNNEN KINDER & JUGENDLICHE AUCH LÄNGER BLEIBEN.
FAQ (english)
What about skate rentals and sizing?
PURCHASING AN ONLINE TICKET DOES NOT ENTITLE YOU TO RENTAL ROLLER SKATES. STOCK IS LIMITED. IT IS RECOMMENDED TO COME EARLY.
YOU CAN, OF COURSE, BRING YOUR OWN ROLLERSKATES/INLINE SKATES.
THERE ARE SIZES 35 - 47 / WE ALSO HAVE A PAIR OF ADJUSTABLE KIDS ROLLERSKATES IN SIZE 33 -35
Is it possible to find out if there are still shoes in my size before I pay the entrance fee?
UNFORTUNATELY THAT IS NOT POSSIBLE. USUALLY, ROLLER SKATES COME BACK REGULARLY AND CAN BE BORROWED AGAIN.
Can you go to SO36/ROLLERDISKO without rollerskates and just watch?
OF COURSE IT IS POSSIBLE. PLEASE MAKE SURE THAT YOU DO NOT ENTER THE DANCE/RIDING AREA.
Can children also come to the later ROLLERDISKO or only to the ROLLERKIDZ and how long can they stay.
CHILDREN AND ADOLESCENTS CAN STAY LONGER ACCOMPANIED BY A GUARDIAN.