30.07.21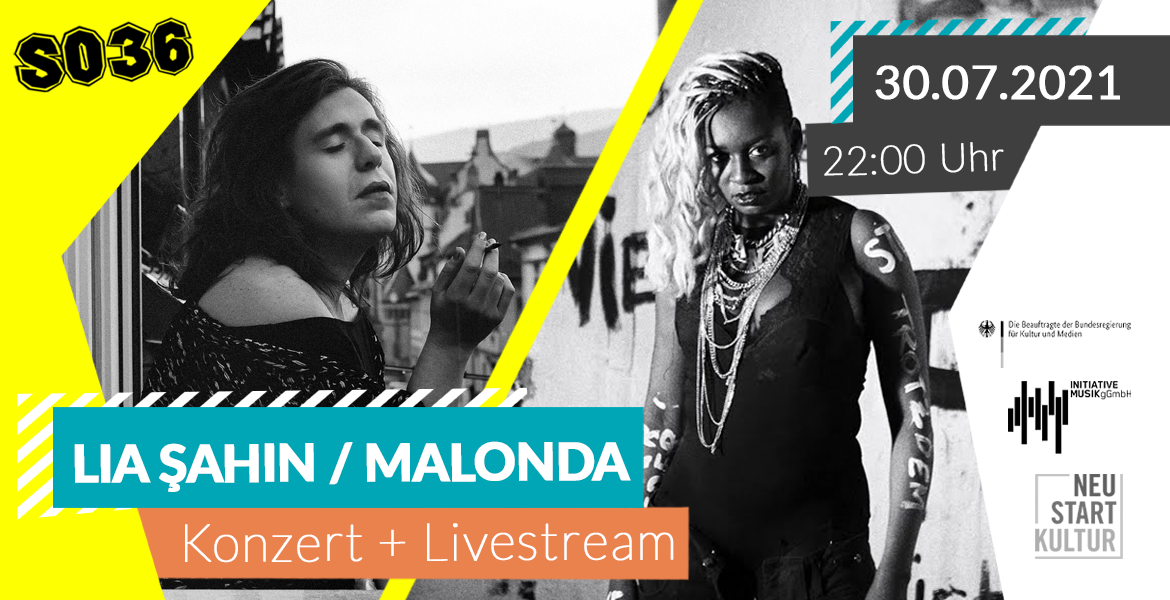 Konzert
Tickets für
LIA SAHIN / MALONDA

live 30.07.21 in Berlin, SO36
Tickets zu LIA SAHIN / MALONDA
Berlin
---
Informationen
Livestream bei Youtube:
https://youtu.be/FsqG_iZm5ok
EINLASS NUR MIT EINER BESCHEINIGUNG ÜBER EINEN NEGATIVEN COVID-19 SCHNELLTEST (NICHT ÄLTER ALS 24 STUNDEN). DOPPELT GEIMPFTE UND GENESENE BRAUCHEN BEI NACHWEIS KEINEN NEGATIVEN TEST. WÄHREND DER VERANSTALTUNG IST DAS TRAGEN EINER FFP2 MASKE VERPFLICHTEND.

ADMISSION ONLY WITH A CERTIFICATE OF A NEGATIVE COVID-19 RAPID TEST (NOT OLDER THAN 24 HOURS). DOUBLE VACCINATED AND RECOVERED PERSONS DO NOT NEED A NEGATIVE TEST IF THEY CAN PROVE IT. WEARING A FFP2 MASK IS MANDATORY DURING THE EVENT.
Mit dem Kauf eines Livestream Soli-Tickets unterstützt ihr die Künstler*innen und das SO36. Der Livestream wird auch ohne den Kauf eines Tickets verfügbar sein. Die Soli-Tickets für den Livestream berechtigen nicht zum Einlass der Show ins SO36. Dafür ist der Kauf eines Einzel, 2er oder 3er Tickets notwendig.
Um eine Künstlerin wie LIA ŞAHIN vorstellen zu können, benötigt es mehr als nur eine Berufsbezeichnung: Beatboxerin, Rapperin, Produzentin – oder wie sie es gerne selbst auf den Punkt bringt: HipHopperin. Mistress of the Ceremony. Auf die Frage, wer Lia Şahin ist, antwortet sie mit der gleichen Ansage, mit der sie auch ihre Bühne stürmt: "Die übliche beatboxende rothaarige deutsche Transgender-Frau mit türkischem Migrationshintergrund." Die Fragezeichen in den Gesichtern ihrer Crowd verschwinden und wandeln sich im gleichen Moment in ein großes Staunen, wenn Lia mit Superlunge und stark trainiertem Bizeps an Mund und Stimmbändern loslegt.
MALONDA (sie/ihr) ist eine in Berlin lebende Sängerin, Songwriterin und Elektrik Diva, die eigene Songs schreibt und auch auf Theaterbühnen brilliert. Neben der Musik brennt sie für antirassistische und queer-feministische Themen. Indem sie über Geschlechterrollen, Sex und Diversität singt und spricht, macht sich Malonda als politische Künstlerin einen Namen.