12.08.21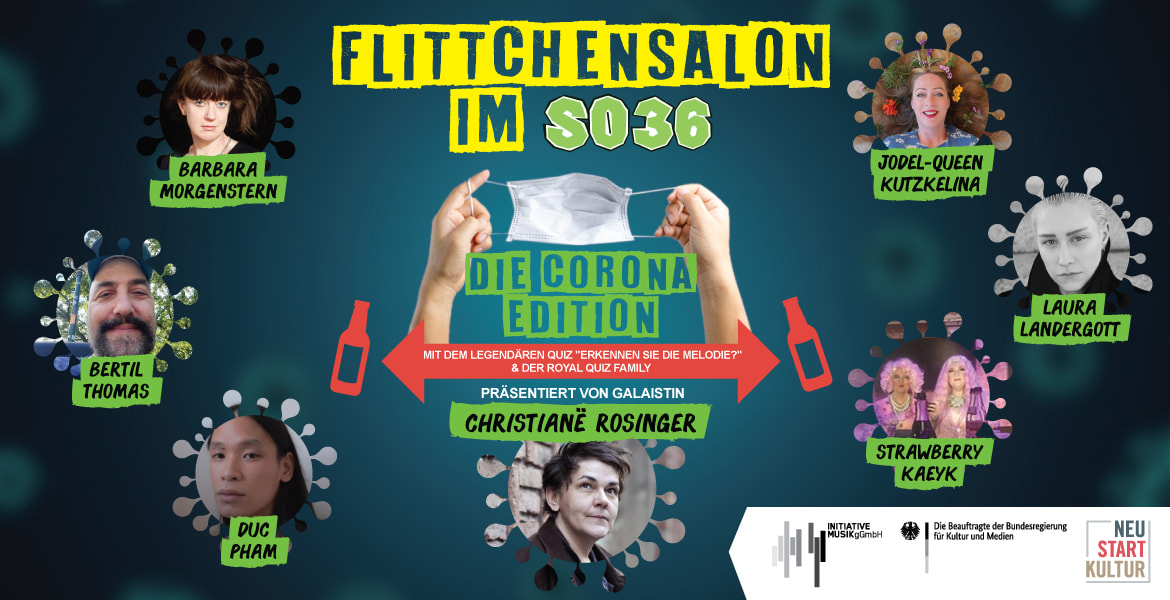 Event
Tickets für
FLITTCHENSALON

Die Corona - Edition 12.08.21 in Berlin, SO36
Tickets zu FLITTCHENSALON
Berlin
---
Informationen
EINLASS NUR MIT EINER BESCHEINIGUNG ÜBER EINEN NEGATIVEN COVID-19 SCHNELLTEST (NICHT ÄLTER ALS 24 STUNDEN). VOLLSTÄNDIG GEIMPFTE UND GENESENE BRAUCHEN BEI NACHWEIS KEINEN NEGATIVEN TEST. ABSEITS DES EIGENEN SITZPLATZES IST DAS TRAGEN EINER FFP2 ODER MEDIZINISCHEN MASKE VERPFLICHTEND. AM PLATZ KANN DIESE ABGENOMMEN WERDEN.

ADMISSION ONLY WITH A CERTIFICATE OF A NEGATIVE COVID-19 RAPID TEST (NOT OLDER THAN 24 HOURS). DOUBLE VACCINATED AND RECOVERED PERSONS DO NOT NEED A NEGATIVE TEST IF THEY CAN PROVE IT. OUTSIDE OF YOUR OWN SEAT YOU HAVE TO WERA A MEDICAL OR FFP2 MASK.
Erklärung zu den Tickets: Wenn ihr zu zweit oder in Gruppe zusammensitzen wollt, kauft euch bitte ein 2er, 3er, 4er oder 6er Ticket. Die Einzelplätze sind gedacht für Menschen die alleine kommen wollen. Ihr werdet nach Kauf des Tickets nach den Kontaktdaten gefragt für alle Tickets. Wenn ihr die für eure Begleitungen nicht wisst, kein Problem schreibt Platzhalter rein, das kann im Nachhinein noch geändert werden.

Endlich wieder Flittchenbar! Die Corona - Edition Flittchensalon im SO 36!
Lang, viel zu lang ist es her, dass wir uns zur Novemberdepression in der Flittchenbar getroffen haben. Endlich geht es weiter mit einer Corona - Sonderausgabe "Flittchensalon im SO 36"

Galaistin Christiane Rösinger präsentiert endlich wieder zukünftige Stars und bekannte Glanzlichter!

Ohne Tanz aber mit Musik , Gesang und Unterhaltung und anderen Medien werden wir berichten, was wir in den letzten einsamen Jahren gemacht haben.

Mit den Elektroniker*innen Barbara Morgenstern und Bertil Thomas.
Mit Laura Landergott und Duc Pham mit noch nie gehörten traumhaften Songs!
Jodelqueen Doreen und Star-Bariton Andreas Schwarz als dynamisches Duo!
jede Menge Überraschungsgästen sowieso !

Und natürlich mit der Royal Quiz Family und dem glamourös- legendären Quiz "Erkennen Sie die Melodie?" Durch den Abend führt Galaistin Christiane Rösinger.