18.11.21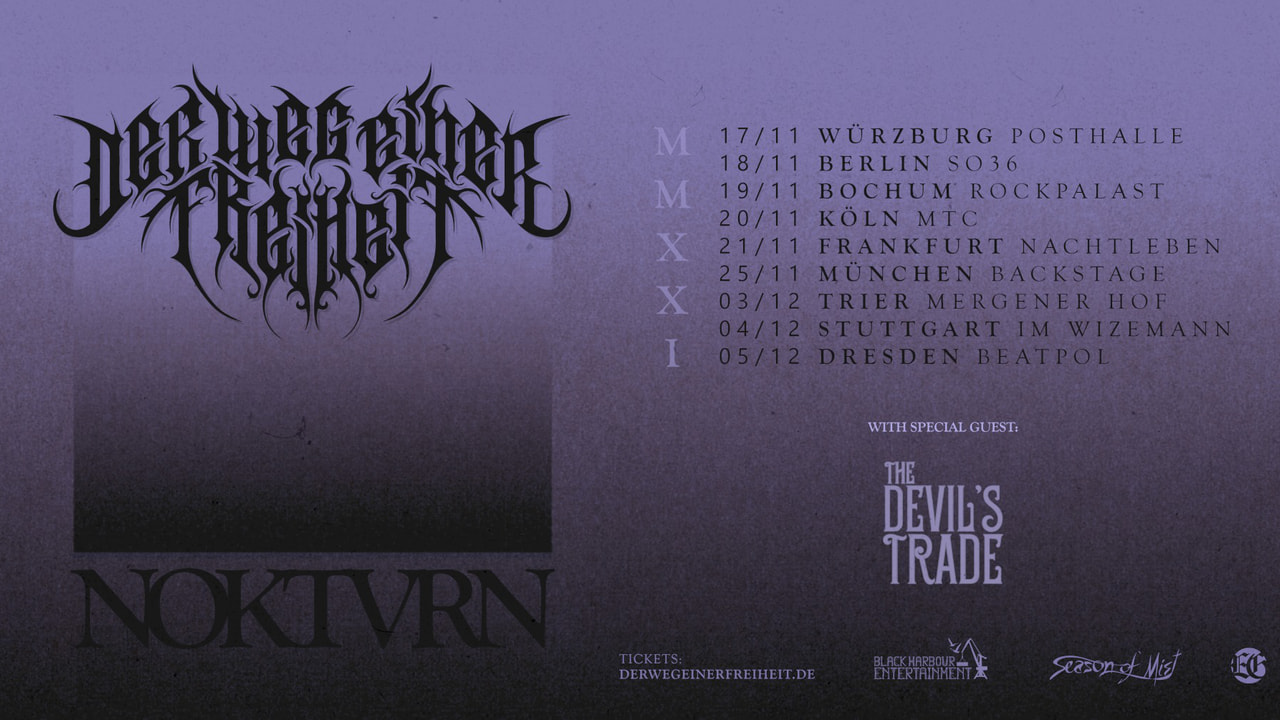 Konzert
Tickets für
DER WEG EINER FREIHEIT

Support: The Devil's Trade 18.11.21 in Berlin, SO36
Tickets zu DER WEG EINER FREIHEIT
Berlin
---
Informationen
Tickets sind ab sofort online sowie an allen bekannten VVK-Stellen erhältlich!
ACHTUNG: ES GILT 2G - EINLASS NUR MIT DIGITAL VERIFIZIERBAREM IMPFZERTIFIKAT ODER GENESENENNACHWEIS. ZUSÄTZLICH DAZU BENÖTIGT IHR EINEN LICHTBILDAUSWEIS (PASS, PERSONALAUSWEIS, FÜHRERSCHEIN, KV-KARTE)

ATTENTION: 2G - ENTRANCE ONLY WITH DIGITALLY VERIFICABLE VACCINATION CERTIFICATE OR PROOF OF RECOVERY. YOU WILL ALSO NEED AN ID (PASS, IDENTITY ID, DRIVING LICENSE, KV CARD)
Die progressiven, avantgardistischen Black Metal Experimentalisten DER WEG EINER FREIHEIT haben nie aufgehört, die Grenzen des Genres zu durchbrechen, das sie seit ihrer Gründung Anfang 2009 ihr zu Hause nennen.
Nikita Kamprad gründete DER WEG EINER FREIHEIT, um seiner Liebe zum Black Metal sowie dem Streben nach Befreiung durch die Kunst Ausdruck zu verleihen – ein Gedanke, der sich im Namen der Band wiederfindet.
12 Jahre später wird Kamprad immer noch von dem Wunsch beseelt, diesen Gedanken zu verkörpern. Gemeinsam mit Schlagzeuger Tobias Schuler, Bassist Nicolas Ziska und Gitarrist Nicolas Rausch wuchs DER WEG EINER FREIHEIT mehr und mehr zu einer festen Einheit. Dies ermöglichte Kamprad, während des gesamten kreativen Entstehungsprozesses des neuen Albums gewohnte Pfade zu verlassen.
Doch nicht nur die Band hat sich mit ihrem fünften Album "Noktvrn" an Neues herangewagt, vor allem auch ihre Fans werden diesen neuen Geist zu hören und vor allem zu spüren bekommen: "Noktvrn", das sind 7 Songs, die allesamt den Charakter der frühen Morgenstunden in sich tragen, in denen sie verfasst wurden. Songs, die gemeinsam von der Band live im Studio eingespielt wurden und dennoch nicht die klangliche Ausgereiftheit eines Studioalbums vermissen lassen. Von Blastbeats angetriebene, garstig atmosphärische Arrangements, die von pulsierend warmen Synths umwoben und von emotional aufgeladenem Gesang durchdrungen werden. Vergangenheit, die auf Zukunft trifft.
Nun endlich kann DER WEG EINER FREIHEIT das neue Album auch auf die Bühne bringen. Mit "Noktvrn" erwartet die Fans ein Leuchtfeuer, Mut und Risiko, die Geburt einer neuen Ära. DER WEG EINER FREIHEIT erfindet sich neu – und bleibt sich dabei treu.