03.10.21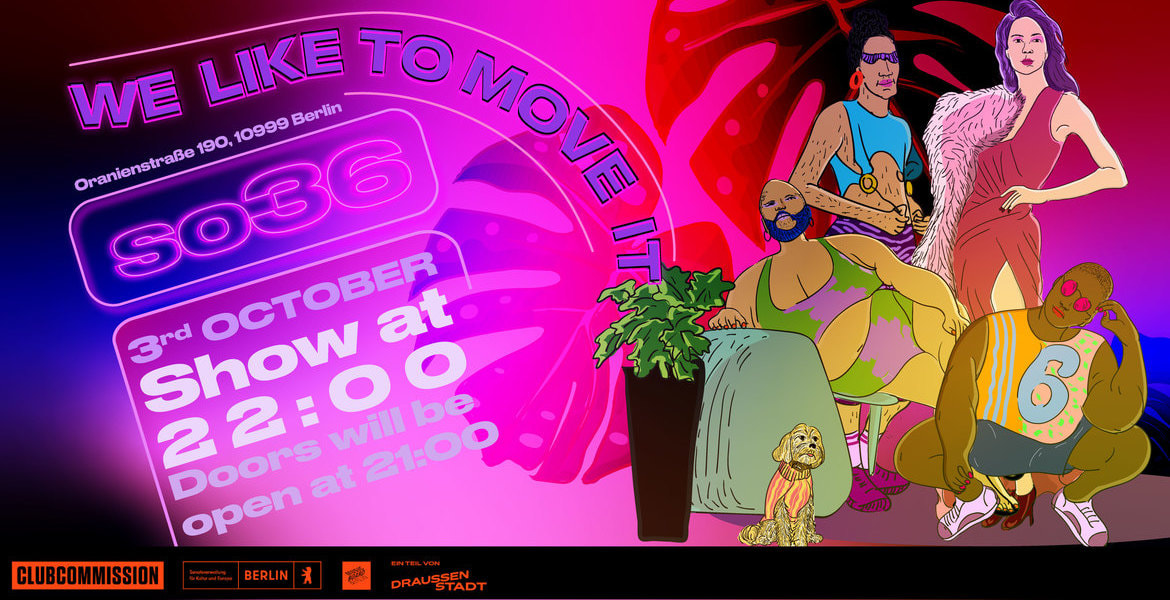 Event
Tickets für
WE LIKE TO MOVE IT

Prince Emrah & Drag Mother Kaey present: all gender, all colors body presenter dance performers 03.10.21 in Berlin, SO36
Tickets zu WE LIKE TO MOVE IT
Berlin
---
Informationen
ACHTUNG: ES GILT 2 G! EINLASS NUR MIT IMPFZERTIFIKAT ODER GENESENENNACHWEIS!
ATTENTION: ENTRANCE ONLY WITH VACCINATION CERTIFICATE OR PROOF OF RECOVERY!
AG DER CLUBKULTUR "Ein Club ist Gemeinschaft ist Vielfalt ist Nähe ist ein Experiment. Ein Club ist Veränderung ist Freiheit ist Widerstand und Kultur. Ein Club ist immer neu und für alle da. Ein Club ist ein Club."
Prince Emrah präsentiert "WE LIKE TO MOVE IT".
Einlass 21 Uhr, Showbeginn 22 Uhr
Bei diesem Event liegt der Fokus auf Body Positivity.
Eine Show in der unterschiedliche Körper in allen Größen, Formen und Farben zu sehen sein werden. Die PerformerInnen kommen überwiegend aus der Refugee-Community und präsentieren Tanz-, Strip-, Gesangs- und Burlesque-Shownummern.
Prince Emrah hostet gemeinsam mit Drag-Mother Kaey.
Außerdem mit treten auf:
Suki Sky, Maria Askaf, Maïmouna u. a.
Für den passenden Sound während und nach der Show sorgt Meg10 (Instagram.com/heymeg10) oder SoundCloud.com/heymeg10
------English Version--------
Prince Emrah presents "WE LIKE TO MOVE IT".
This event is all about body positivity.
The show will feature different body types in all forms, sizes and colors.
The performers are mosty a part of the Refugee-community.
You wil se a mic of dance, strip-tease, burlesque and live singing.
The show will be hosted by Prince Emrah and drag mother Kaey.