01.02.22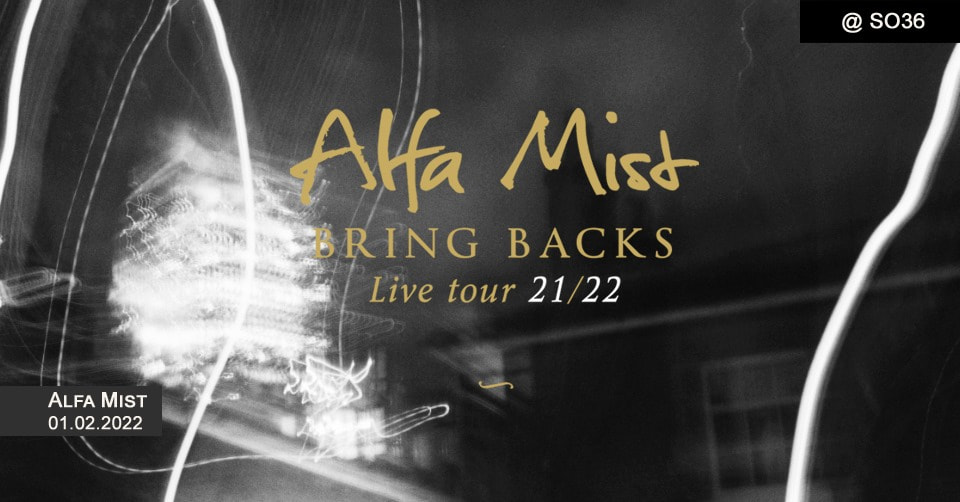 Verlegt auf den 31.10.
Tickets für
ALFA MIST

Bring Backs Live Tour 21/22 01.02.22 in Berlin, SO36
Tickets zu ALFA MIST
Berlin
---
Informationen
Leider wird das Konzert aufgrund der aktuellen Situation (Corona) auf den 31.10.2022 verschoben. Tickets behalten ihre Gültigkeit oder können da zurückgegeben werden, wo sie gekauft wurden.
Unfortunately the concert has to be postponed due to the current situation (Corona) to the 31.10.2022. Tickets remain valid or can be returned where they were bought.
Priorisierung vor Perfektionismus. Das ist das Credo, das die rastlose Kreativität des Multiinstrumentalisten, Rappers und Produzenten Alfa Mist antreibt.
Alfa brachte sich als Schulkind in East Ham, London, zunächst selbst bei, Beats zu produzieren. Dann entdeckte er den Jazz durch das Sampling von Hip-Hop-Tracks von Produzenten wie Hi-tek, Madlib und J Dilla. Schließlich brachte er sich das Klavierspielen selbst bei , um die harmonischen Feinheiten dieser prägenden Platten zu analysieren. Darüber entwickelte Alfa allmählich seinen ganz eigenen Produktionsstil aus kopfnickenden Rhythmen, kombiniert mit der Unmittelbarkeit der Jazz-Improvisation, verbunden mit einem durchdringenden Sinn für Melodien