22.09.23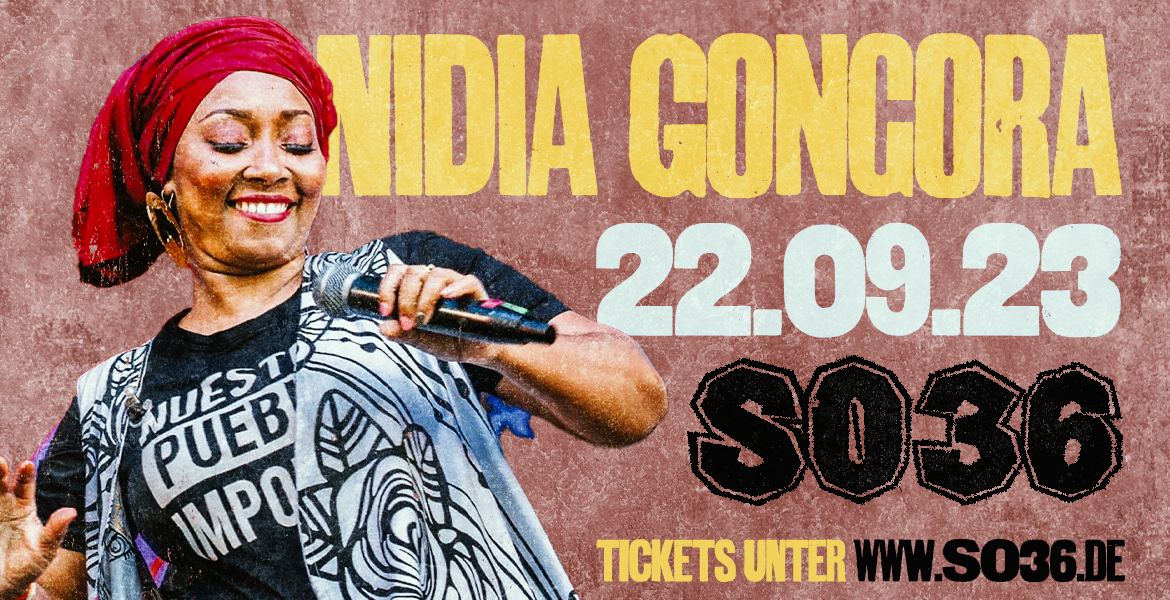 Konzert
Tickets für
NIDIA GÓNGORA

+ Tropical Kreuzberg Afterparty 22.09.23 in Berlin, SO36
Tickets – NIDIA GÓNGORA
Berlin
---
Informationen
La maestra Nidia Góngora as she is known, is the most recognized singer from the Colombian Pacific Coast.
She has won Colombian Shock Awards and has been nominated for the Latin Grammy in the category of best folklore album back in 2019.
Singer and researcher of traditional music from the Colombian Pacific Coast; she has more than 20 years of experience as a composer and performer. Nidia has managed to build bridges between the traditional music from her native Timbiquí (Colombia) and other genres of world music.
Spotify
The Tropical Kreuzberg Party starts around 11pm. The concert tickets remain valid. You can just stay and party all night!!!
Joining Nidia Góngora will be other exceptional artists:
Bullerengue All Stars, an ensemble that uses this traditional expression as a ritual and symbol of resistance and connection to the Palenquera ancestry.
Calamidades Lola, a Barranquilla-born DJ based in Berlin, will be present. Her musical selection is heavily influenced by the "picotera" culture of the Colombian Caribbean coast, where local DJs blend African, Antillean, and Latin sounds in popular street parties.
Mokeyanju, on the other hand, will guide us through a sonic spectrum ranging from hip-hop to Detroit house culture, incorporating Fuji, Highlife, and Ndombolo.
An evening primarily led by women awaits, where we will delve into diverse musical explorations rooted in African traditions through ritual, drumming, celebration, and enjoyment. This promises to be a unique and unforgettable experience.
***********************************************************************
La maestra Nidia Góngora, wie sie genannt wird, ist die bekannteste Sängerin der kolumbianischen Pazifikküste.
Sie hat die kolumbianischen Shock Awards gewonnen und wurde 2019 für den Latin Grammy in der Kategorie bestes Folk-Album nominiert.
Die Sängerin und Forscherin der traditionellen Musik der kolumbianischen Pazifikküste verfügt über mehr als 20 Jahre Erfahrung als Komponistin und Performerin. Nidia hat es geschafft, Brücken zwischen der traditionellen Musik aus ihrer Heimat Timbiquí und anderen Genres von Worldmusic zu schlagen.
Spotify
Ca. 23 Uhr startet die Tropical Kreuzberg Party. Die Konzertickets bleiben gültig. Ihr könnt einfach bleiben und die ganze Nacht weiterfeiern!!